This is a sponsored conversation written by me on behalf of General Mills®. The opinions and text are all mine. #bakingwithbetty
3 in One Sugar Cookies
Short on time? Wait until you see how easy it is to make 3 different kinds of cookies from Betty Crocker's Sugar Cookie mix. I'm also going to show you a twist on Peanut Butter Blossoms that will take less than 30 minutes to make including the baking time. You're going to love to Spread Cheer with Simple Surprise!
Holiday season is in full swing at my house and I'm looking for shortcuts that will let me enjoy more time with my friends and family. On my schedule already for the weekend is to bake almost 200 cookies, make and decorate 3 gingerbread houses with the kids and make 2 desserts for parties I am going to. I'm busy and wouldn't have it any other way.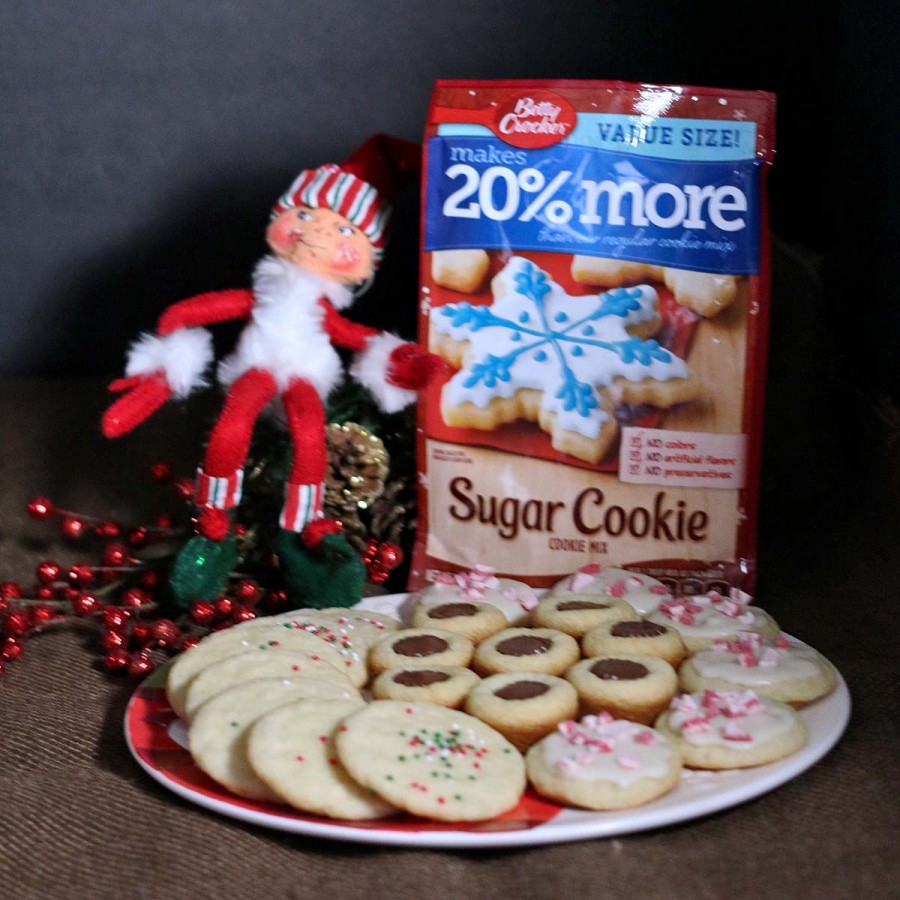 Pick up a package or two of Betty Crocker's Sugar Cookie mix and Peanut Butter Cookie Mix. Each package will make 3 dozen cookies and I am going to show you have you can get a dozen each of sugar cookies with sprinkles, frosted sugar cookies with white chocolate peppermint candies on them and sugar cookie cups with mini peanut butter cups. We'll also do 3 dozen easy Peanut Butter Blossoms.
3 in One Sugar Cookies
Recipe type:
Cookies, Dessert
Prep time:
Cook time:
Total time:
Ingredients
Betty Crocker's Sugar Cookie Cookie Mix
Frosting
Mini Peanut Butter Cups
Holiday sprinkles
Crushed peppermint white chocolate or crushed candy canes
Instructions
Make dough according to package directions.
Divide dough into 3 pieces, Divide each piece into 12 equal pieces. Roll into balls.
Put 1 dozen in a greased mini muffin pieces. Bake for 10 minutes at 350 degrees. When they come out of the oven press one minute peanut butter cup into each cookie. Let set a few minutes and remove from pan to cool.
Put the second dozen on a greased cookie sheet. Flatten slightly with a flat bottom glass that has been dipped in sugar. Sprinkle with sprinkles. Bake for 8 - 10 minutes until cookies are done. Cool on a wire rack.
Do the same for the last dozen cookies but don't add sprinkles. Bake for 8 - 10 minutes until cookies are done. Cool on a wire rack. Frost when cool and top with the peppermints candies.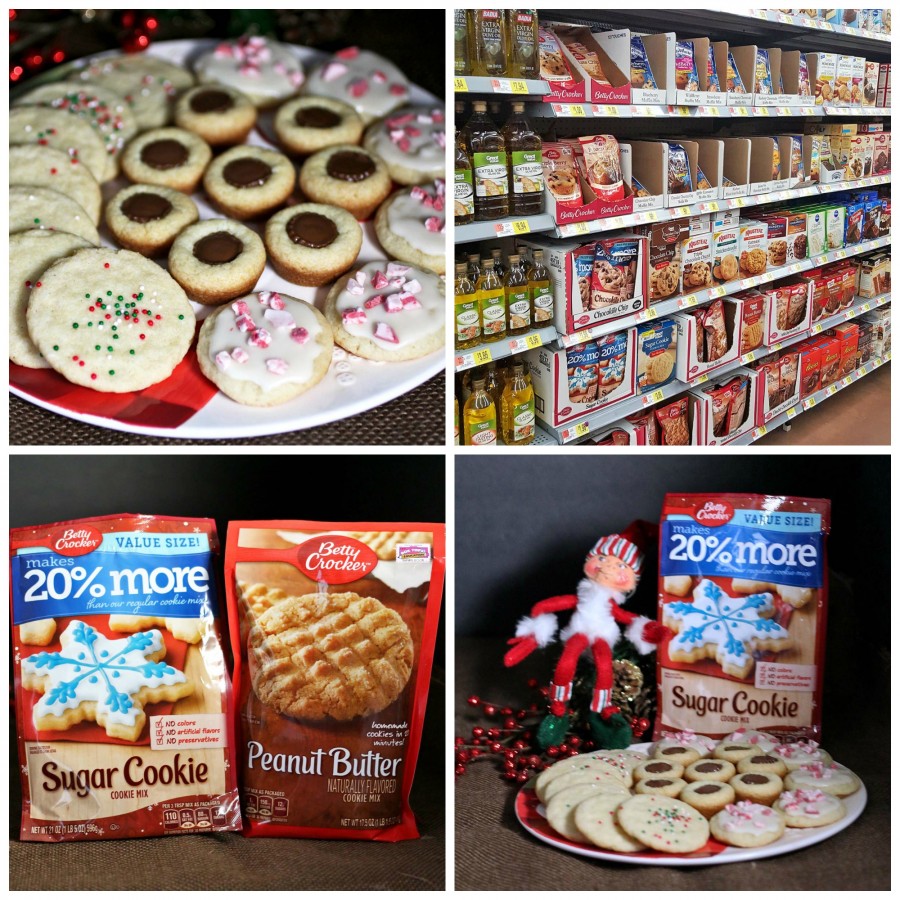 I knew right away I wanted to do a twist on Peanut Blossom Cookies with the Peanut Butter Cookie Mix. I wanted bake them in mini muffin tins to save time.
Peanut Butter Blossoms
Recipe type:
Cookie, Christmas
Prep time:
Cook time:
Total time:
Ingredients
1 package Peanut Butter Cookie Mix
2 tablespoons water
2 tablespoons oil
1 egg
1/4 cup peanut butter
36 candy kisses
Instructions
Put all ingredients except the candy kisses in a mixer bowl. Mix until well combined.
Grease 3 mini muffin pans. preheat oven to 325 degrees.
Use a small scoop or a tablespoon of dough and fill each tin.
Bake for 15 minutes or util a tester pulls out clean.
Unwrap candies.
Add candy to each cookie.
Let set until cool.
Visit Betty Crocker! Click here for a rebate coupon for select Betty Crocker cookie mixes at Wal Mart, and spread some cheer with simple surprises. Be sure to check out Betty Crocker's Facebook page. I love following them there so that I can be inspired and find delicious recipes for my family.
How are you spreading cheer this holiday season? Please leave me a comment below about your favorite holiday traditions. Happy baking this holiday season!
Pin It!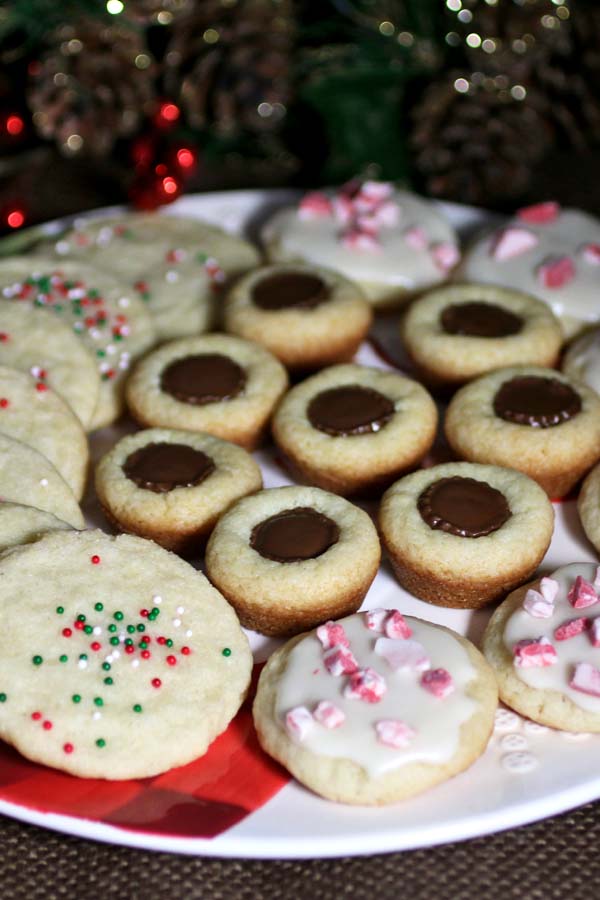 This is a sponsored conversation written by me on behalf of Betty Crocker. The opinions and text are all mine.