Comforts From Home Project
This is a project that helps so many of our soldiers when they are away from home. My cousin's family has experienced first hand how the USO benefits the soldiers and gives them a taste of home when they are so far away. The next couple of paragraphs were written by my cousin Shannon who also served our country.
"As my sons would say my mama wore combat boots. So did Great Grandpa in WWI, Grandpa and Uncles in WWII. Me and my older brother (and his wife) during Vietnam and younger brother went in after the conflict ended just retired and many cousins. Both my sons joined the army and one is making it his career. Makes for a very full family tree of Veterans!"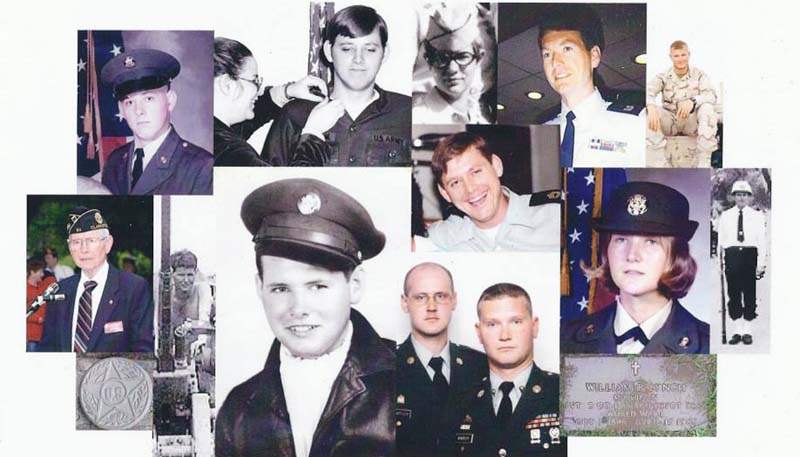 "When my son John was deployed to Kandahar with the Army, my brother Aaron and his son Robert who were deployed to Kandahar with the Michigan Air Nation Guard, once a week they would meet at the USO for family time eats and games, usually a card game or two in good family tradition."
John actually has served 3 tours in the Middle East and Robert just got back from being deployed a second time a few weeks ago. So proud of all of them!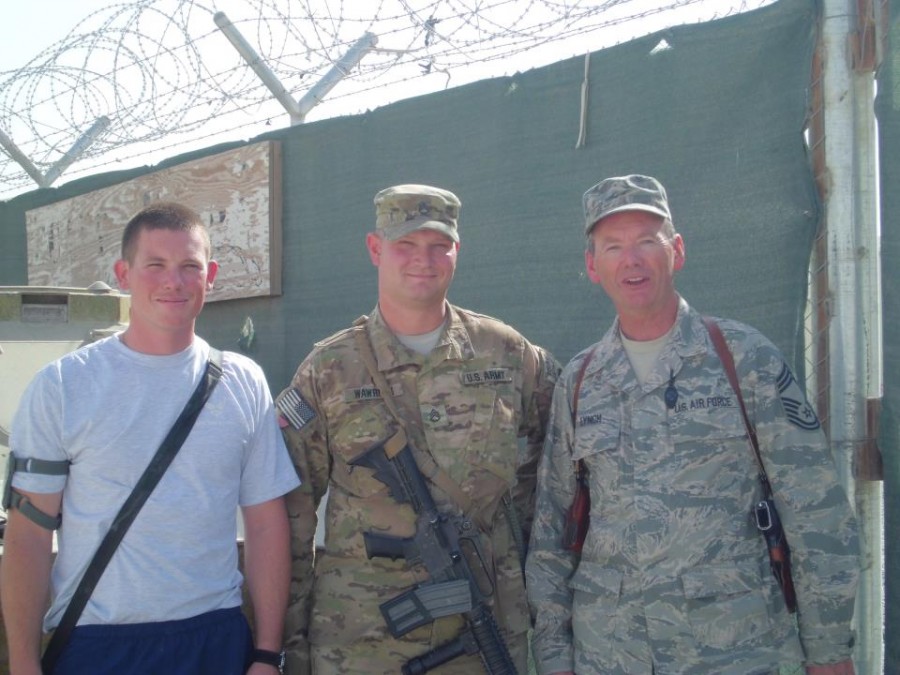 About Marie Callender's and the Comforts From Home Project
Marie Callender's creates homemade meals and desserts made with high-quality ingredients and signature special touches that your family can slow down and savor together.
This fall, Marie Callender's announced the return of the Comforts from Home Project, a partnership with the United Service Organizations (USO) that's dedicated to bringing the heartwarming feelings, flavors, and favorites of home to those who miss it most.
To help bring the comforts of home to the brave men and women of the U.S. military, specially-marked packages of Marie Callender's meals and desserts encourage consumers to go online and enter a code found on the back of the box. Marie Callender's will make a $.50 donation to the USO Operation Celebration program for each code entered, up to $300,000.
The USO Operation Celebration program is dedicated to provide a "home away from home" for our deployed troops stationed around the world to make sure every holiday, small or large, is celebrated.
The program ensures that our troops have a place to celebrate every holiday, with or without their families, bringing the comforts of home that can often be taken for granted, such as seasonal meals, company, entertainment and a chance to relax away from the stress of active service.
Last year, with consumers' overwhelming support, Marie Callender's brought care packages to a very deserving group of servicemen and women stationed overseas through a $250,000 donation to the USO2GO program.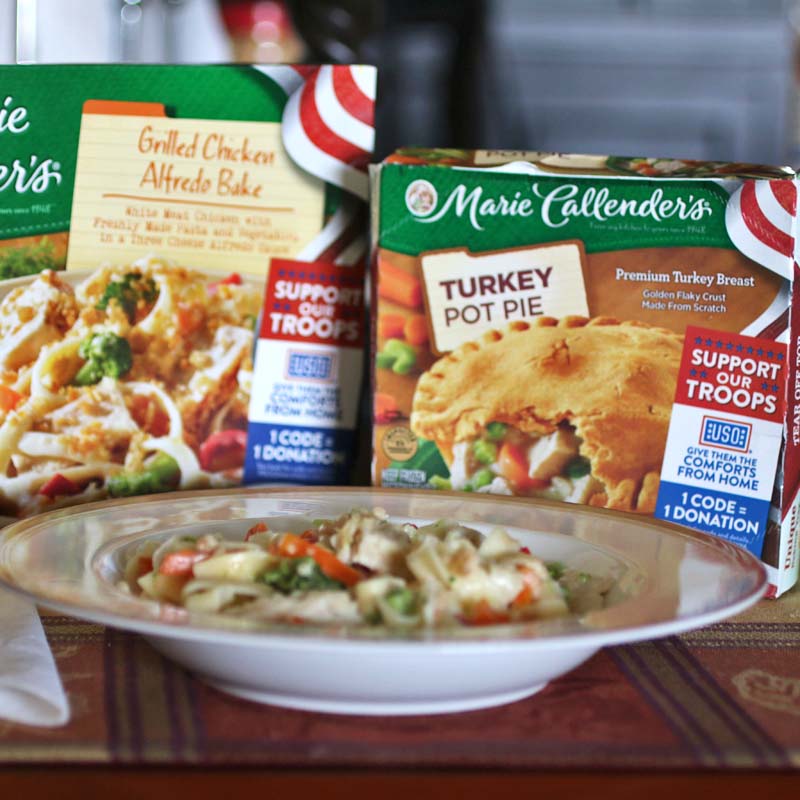 How can you participate in the Comforts From Home Project
From September 1, 2015 through January 29, 2016, consumers can help give to the USO Operation Celebration program by entering the on-pack code from one of the more than 51 million specially-marked Marie Callender's frozen meals or desserts. Each code entered online equals a $0.50 donation to the USO.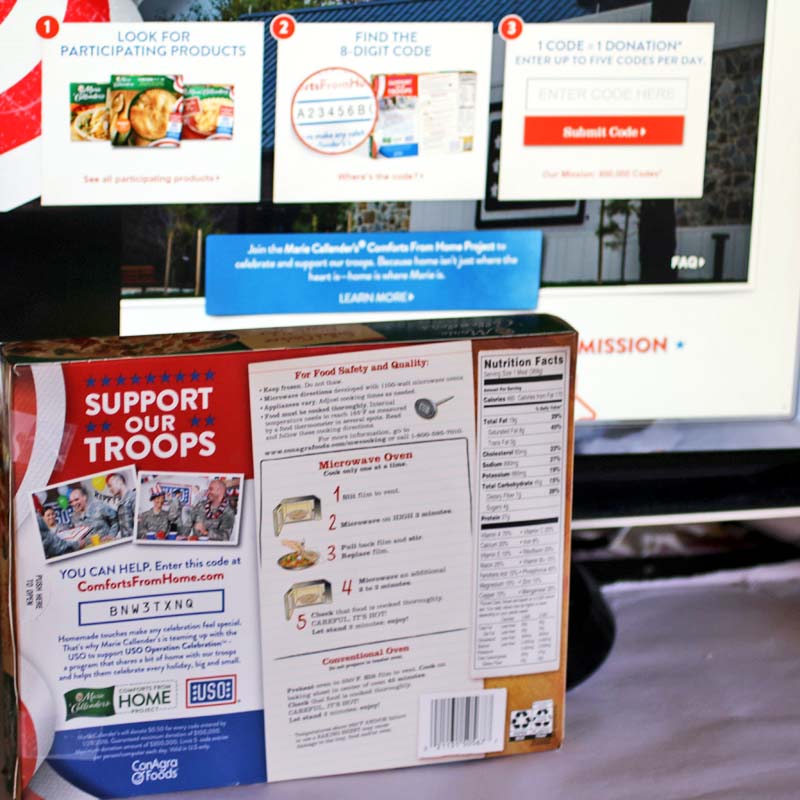 Visit Marie Callender's to enter the code as shown on the box above. Enter the code on the back of your box as shown above. Type the code into the box and then submit.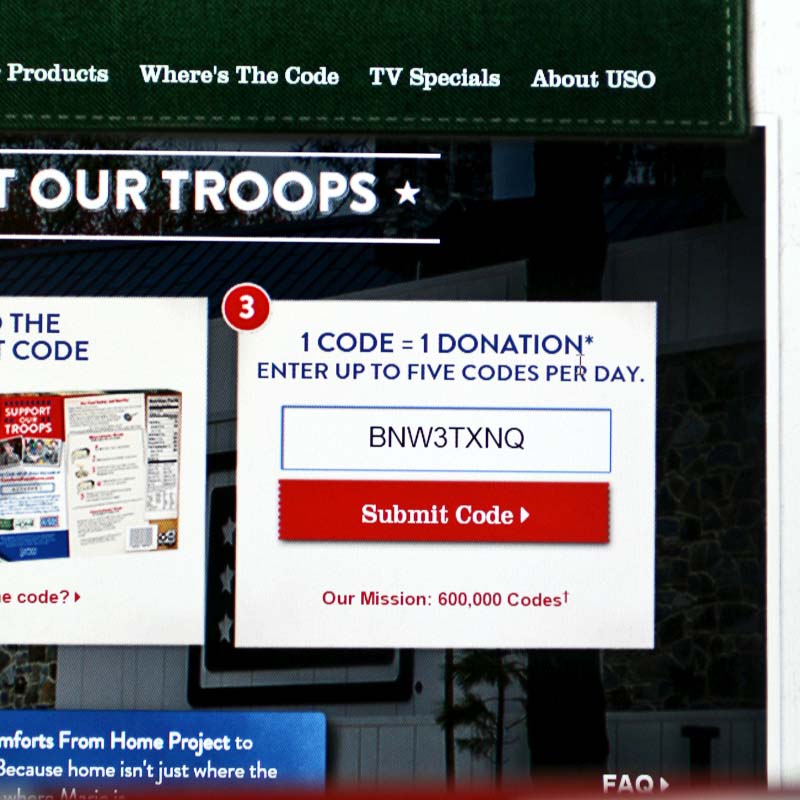 For every entry by 1/29/2016 of an 8-digit code found on participating products, Marie Callender's will donate $.50 to the USO Operation Celebration program. Guaranteed minimum donation: $100,000. Maximum donation: $300,000. Limit 5 code entries per person/computer each day. Valid in U.S. Only.
In addition to the on-pack promotion, the Comforts from Home Project will partner again with Scripps Networks to give deserving military families touches of home within 3 popular TV shows: Guys Grocery Games (Food Network), Kitchen Crashers (HGTV and DIY Network) and Hello Goodbye (Travel Channel).

On-air showtimes can be found here

Each program offers a unique way to give back to those who defend our homes every day. Scripps Networks will also be re-airing the one-hour program, A Hero's Welcome, from the 2014 Comforts From Home Program on Veterans Day on Food Network.
You can follow Marie Callender's on Facebook and Pinterest.
I was selected for this opportunity as a member of Clever Girls and the content and opinions expressed here are all my own.