This post is sponsored by Dixie Crystals in conjunction with a social media campaign through Sunday Supper LLC. All opinions are my own.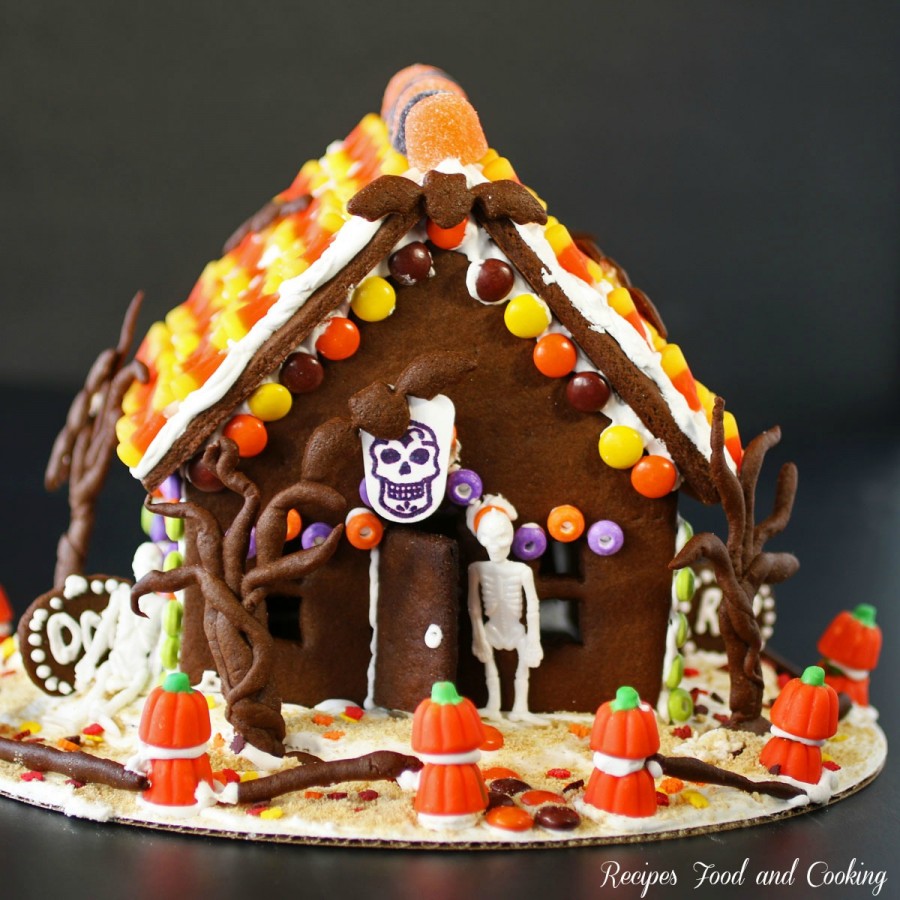 Halloween Chocolate Gingerbread House
I'd like to welcome you today to Sunday Supper with Dixie Crystals. Our goal today was Fun Halloween Sweets and Treats. I love this theme for today. So today I'm going to share a Halloween Chocolate Gingerbread House with you.
Dixie Sugar Crystals is sponsoring this post and they even sent me 40 lbs. of sugar! I'm going to bet that before Christmas even gets here it will be gone.
For the first time in over 20 years I altered my favorite gingerbread house recipe. I decided to add some unsweetened chocolate to it to see if I could deepen the color of the baked house somewhat. It kind of worked I think, but it still isn't as dark as what I had in my head. When I baked the house I also baked some trees, tombstones and bats! I was lucky enough to find some house cutters a few years ago and it makes it so easy to make the houses! Otherwise find a pattern you like and cut it out of parchment or wax paper. Do a search online and you'll find lots of patterns.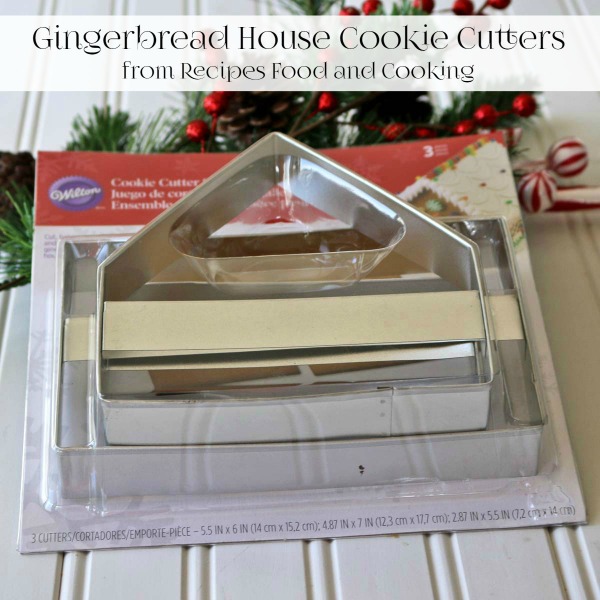 One of the first things I like to do is get candy so I can figure out how I am going to decorate the house. I like to at least figure out the roof, fence, what kind of trim goes around the windows and doors, eaves trims and path ways. It usually takes 2 bags of candy to do the roofs with some leftovers and parts of other bags to decorate the rest. I start with the part I know for sure what I want there and go from there.
You need to make a batch of Royal Icing to decorate the houses with and to stick them together. One recipe should do one house. I use canned food to support the pieces when I first put the walls together. To put the houses together run a line of royal icing along the bottom and side edges. I usually start with the back wall and a side wall to see where I want to place them on the cardboard base. I place it further back on my cardboard so that the front yard can be bigger.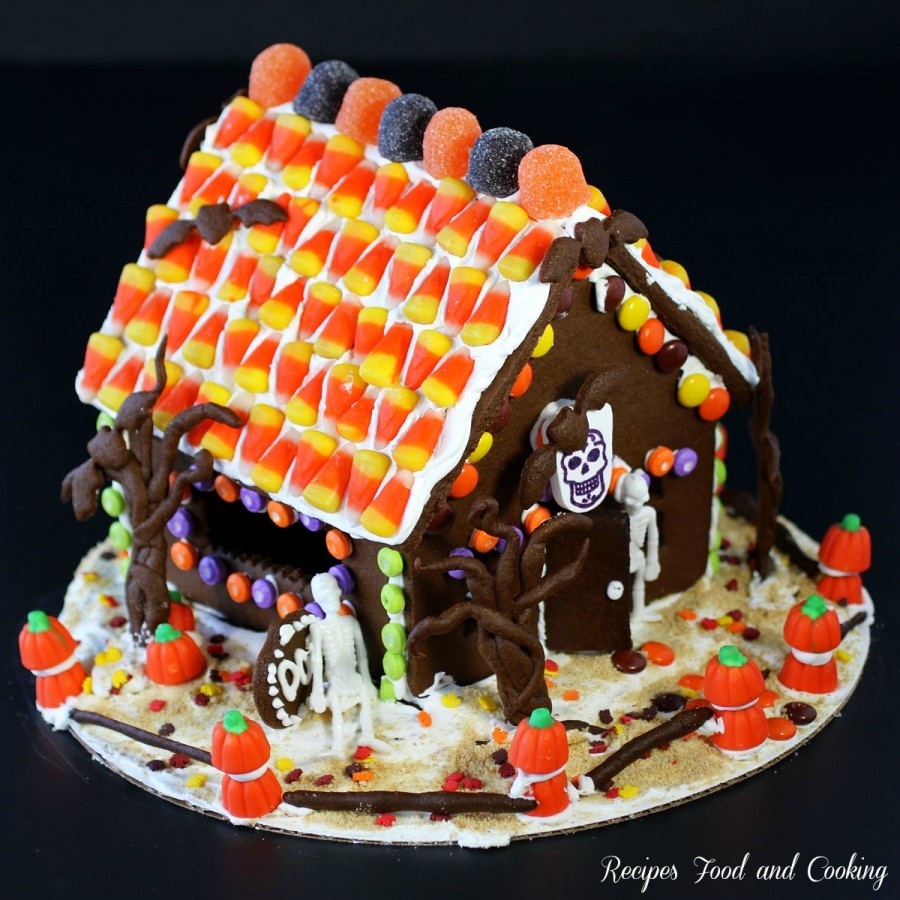 If you have extra gingerbread you can bake a piece of dough to build the house on but you still are going to want to do it on a cardboard base just for stability. The base is going to be covered with royal icing so it's up to you. After you get the walls all up I try to let these dry some before adding the roof pieces, a hour will do but 2 is better. Don't forget to remove the can from the inside if you used one for support.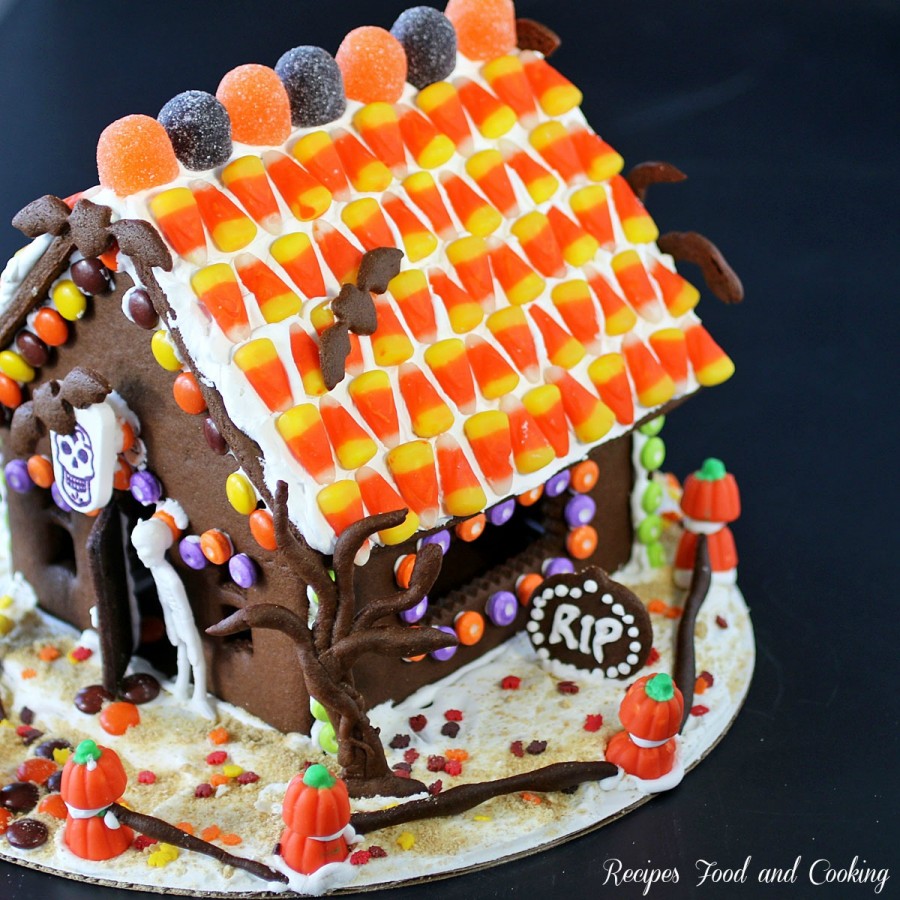 Halloween Chocolate Gingerbread House with Dixie Crystals
Recipe type:
Gingerbread House, Halloween, Dessert
Prep time:
Cook time:
Total time:
Serves:
1 gingerbread house
Ingredients
5 cups all purpose flour - about
1 teaspoon baking soda
1 teaspoon salt
2 teaspoons ginger
2 teaspoons cinnamon
1 teaspoon nutmeg
1 teaspoon cloves
1 cup Crisco
1 1/2 cups sugar
1¼ cups molasses
2 oz. baking unsweet chocolate
2 eggs
Instructions
Thoroughly blend the flour, salt and spices together. Set aside.
Heat the Crisco in a pan until it melts. Stir in sugar and continue to stir until it melts off of the heat. When almost cool add the chocolate squares. Stir several times until they melt. Cool. Stir in the molasses and eggs. Add to your mixer bowl.
Add 4 cups of the flour mixture to the molasses mixture. Mix well until thoroughly combined. Add in remaining flour. Knead until it comes together. Let set for 15 minutes.
Preheat oven to 350 degrees.
Take about ? of the gingerbread mix and make a ball. Roll it out on the back of a sprayed cookie sheet. Lay your pattern on and figure out the best arrangement. Read tips above. Cut the pieces out with a pizza cutter or sharp knife. Remove excess gingerbread. Refrigerate for 10 minutes.
Remove cookie sheets from refrigerator and bake for about 10 - 12 minutes. It should just be beginning to brown around the edges. Remove to a wire rack to dry overnight before assembling.
Any extra dough should be refrigerated. Let come to room temperature before using.
Notes
adapted from Wilton - there is no way to give accurate times, time will depend on your experience and how elaborate or simple you want to be.
When you make the royal icing make sure it stays tightly covered to keep it from drying out. When I am working with it I dampen a towel and wring it out the best I can. I keep this on top of bowl. Refrigerate any extra.
Royal Icing
Ingredients
3 level tablespoons Meringue Powder
4 cups sifted confectioners' sugar (approx. 1 lb.)
6 tablespoons water
Instructions
Beat all ingredients at low speed for 7-10 minutes (10-12 minutes at high speed for portable mixer) until icing forms peaks. Keep icing covered with a damp cloth when not in use.
Yields 3 cups of icing.
Note: Royal icing should have good body and be moderately stiff: It will not create a lasting bond if too runny and soft. For snow, I sometimes add a few drops of Karo Syrup to thin it just a little for a softer look.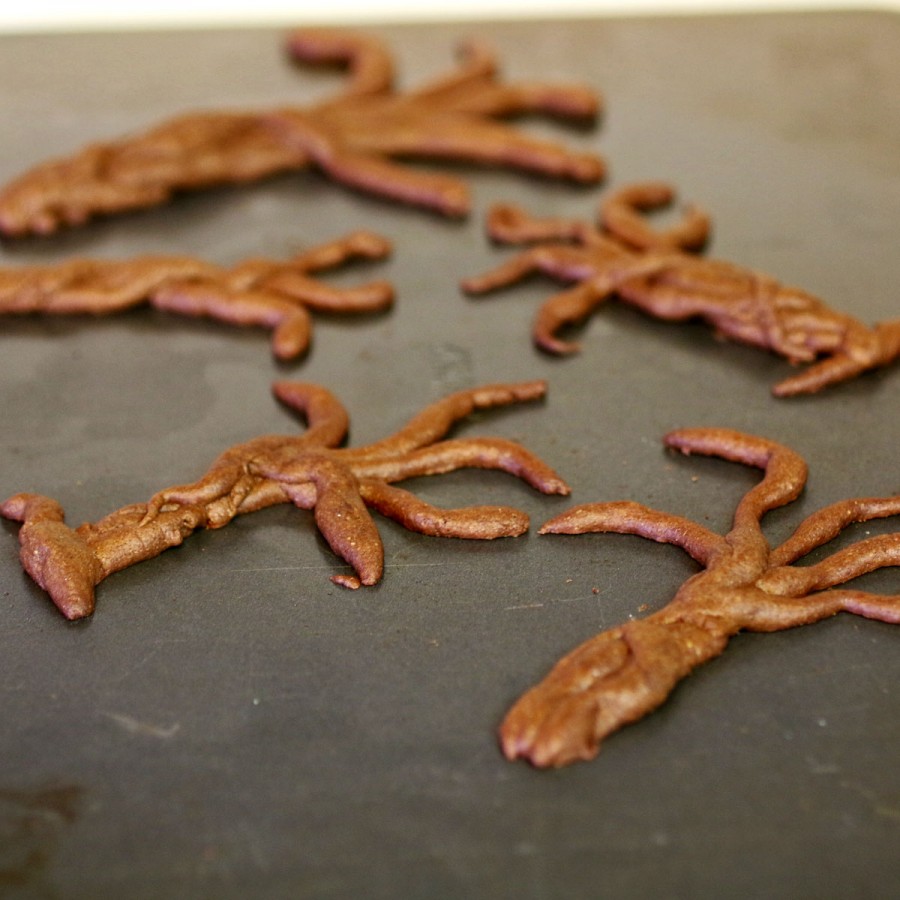 To make the trees make this ropes with the gingerbread and twist together. Lay on a greased cookie sheet and shape the branches. I've been experimenting how to do the bases of the trees to make them more stable. Placing a piece of dough across the bottom seems to be the best way to do it so far.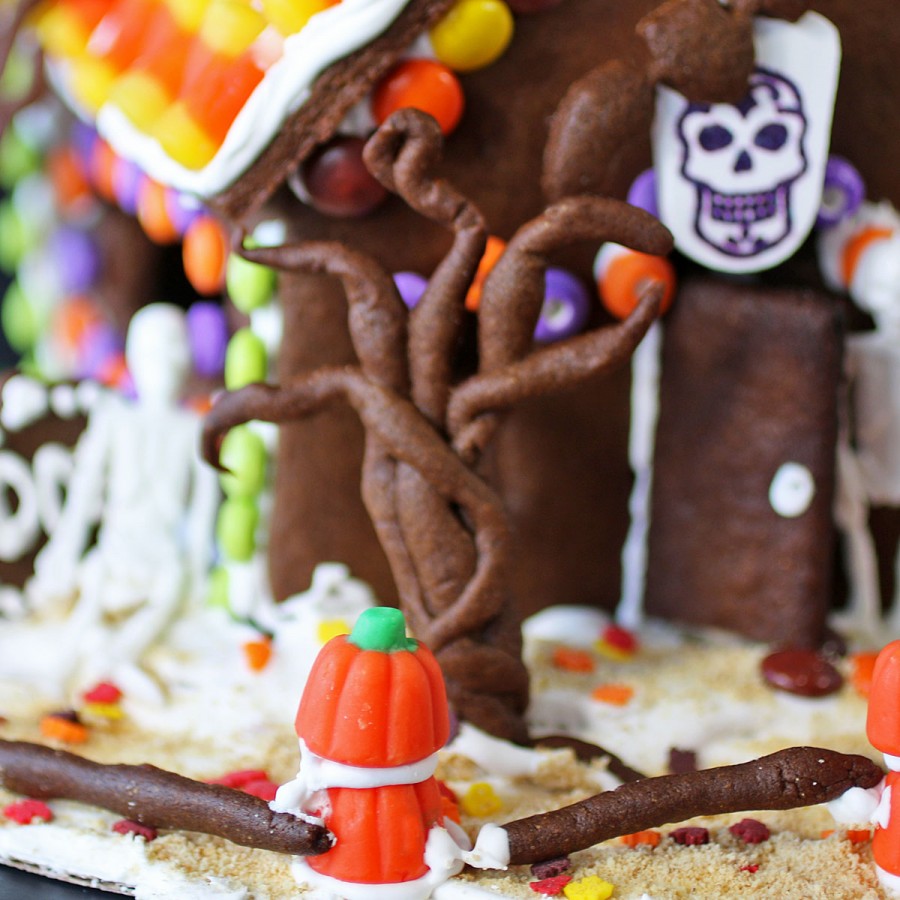 Visit the Dixie Crystals Website, there are lots of recipes, a cooking with kids section, recipe box and so much more. You can also follow Dixie Crystals Sugar on Facebook, Twitter, Instagram, Pinterest and Google+.
Halloween Treats
Halloween Treats
Plus Sweet Halloween Treats #SundaySupper with Dixie Crystals
Connect with Dixie Crystals on social media: Facebook, Twitter, Instagram, Pinterest and Google+.
Join the #SundaySupper conversation on twitter on Sunday! We tweet throughout the day and share recipes from all over the world. Our weekly chat starts at 7 pm ET. Follow the #SundaySupper hashtag and remember to include it in your tweets to join in the chat. To get more great Sunday Supper Recipes, visit our website or check out our Pinterest board.
Would you like to join the Sunday Supper Movement? It's easy. You can sign up by clicking here: Sunday Supper Movement.
Pin It!