This shop has been compensated by Collective Bias, Inc. and its advertiser. All opinions are mine alone. #PopIntoSAMS #CollectiveBias
We had girls movie night here on Saturday night to watch one of my favorite movies and celebrate a birthday. I got busy and made several kinds of popcorn for it. Since our birthday girls favorite color is pink I melted pink candy melts and added sprinkles. You can make it less than 10 minutes plus set up time. In a rush? Try putting it in the refrigerator for 5 – 10 minutes to set the candy coating. You can use any color you want depending on your popcorn night theme.
A really fun thing to do would be to pop several of the bags of popcorn and have the add-ins all ready to go so everyone could pick their own flavor for the movie. Have bowls of candy like gummy bears, crushed up candy bars, broken up cookies or graham crackers, nuts, sunflower seeds and even mini marshmallows ready to be added into their popcorn bowls. Kids especially will love this option. Let your imagination go and let the kids play with their food! See how creative they can get, Ask them to make up a name that goes along with the movie for their creation. Depending on their age you might get some really silly names.
Look for fun containers at the dollar store to go with the movie that you picked. There are all kinds of things there you can turn into containers for popcorn. Have fun with it and the kids will too. They will be talking about it for days.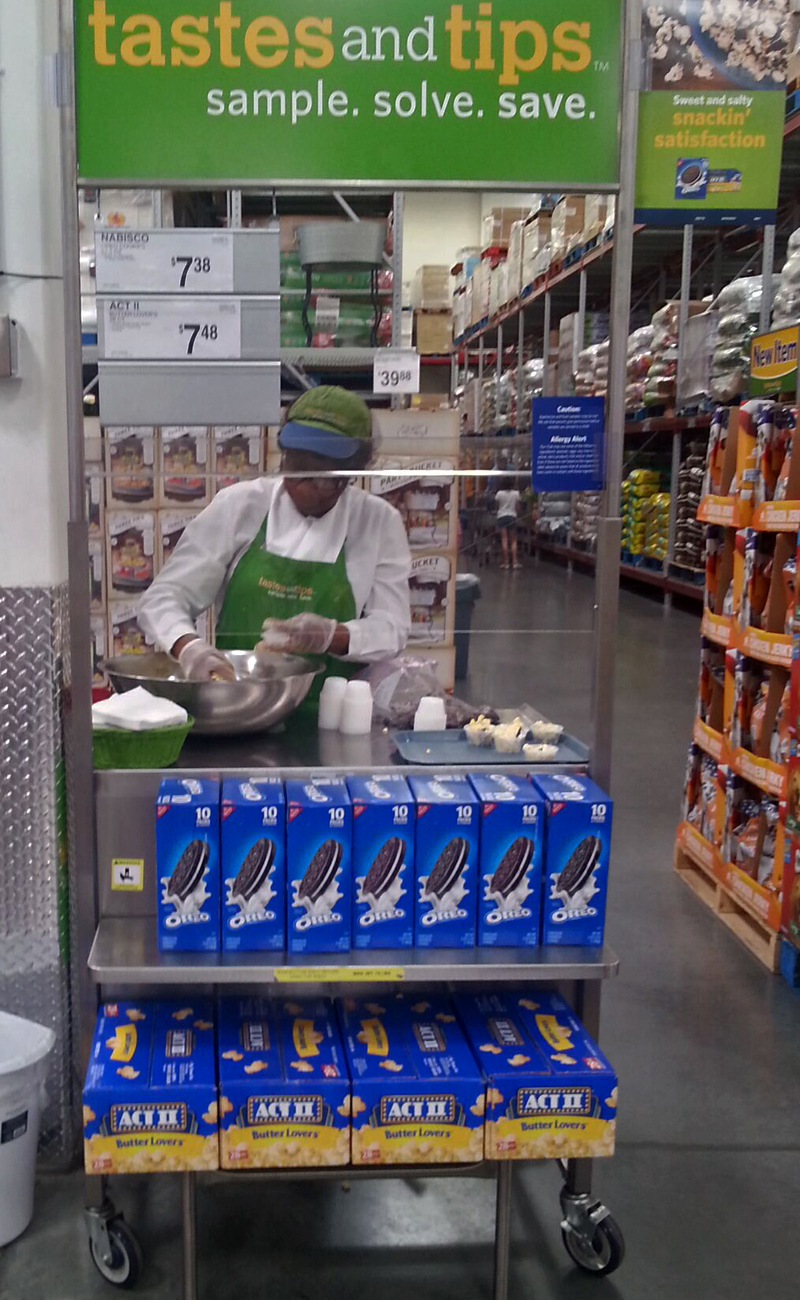 I had gone to Sam's Club in St. Petersburg earlier in the day to see the popcorn demo they were having that day. A lovely lady there was busy popping ACT II Popcorn in the microwave and then adding crushed up OREO's to the popcorn. It is a perfect combination of sweet and salty. I use one cookie per cup of popcorn. You can make popcorn this way in minutes.
Have you heard about Ibotta? Ibotta (iTunes and Google Play store)  is a smart new way to earn cash while you shop. Download the Ibotta app and look for an exclusive $2.00 off coupon for ACT II popcorn to use at Sam's Club (while supplies last). I know I am going to sign up, it looks like an awesome way to get cash back from the purchases you make. I was surprised by all of the options to save money they had there and I know we're all looking for ways to save money.
I love the Butter Lovers ACT II Popcorn and all of these recipes below are formulated to use one bag of popcorn. How cool is that? Everyone can make a bag and make their favorite popcorn recipe from our 10 Easy Popcorn Recipes in Less than 10 Minutes.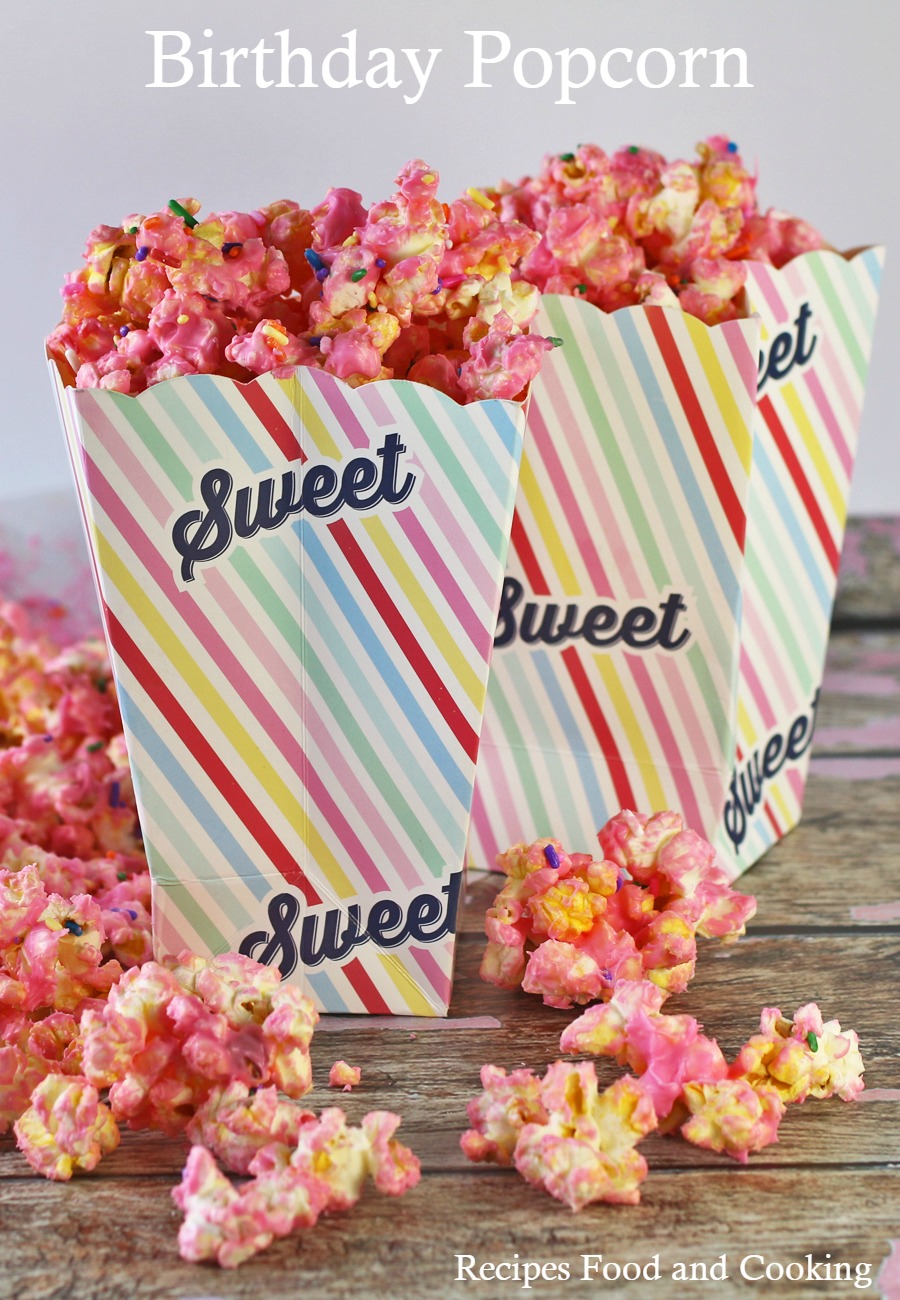 I had also had on my radar a marshmallow popcorn that you add gelatin to for the flavoring. Imagine the possibilities, everyone could have their favorite flavor.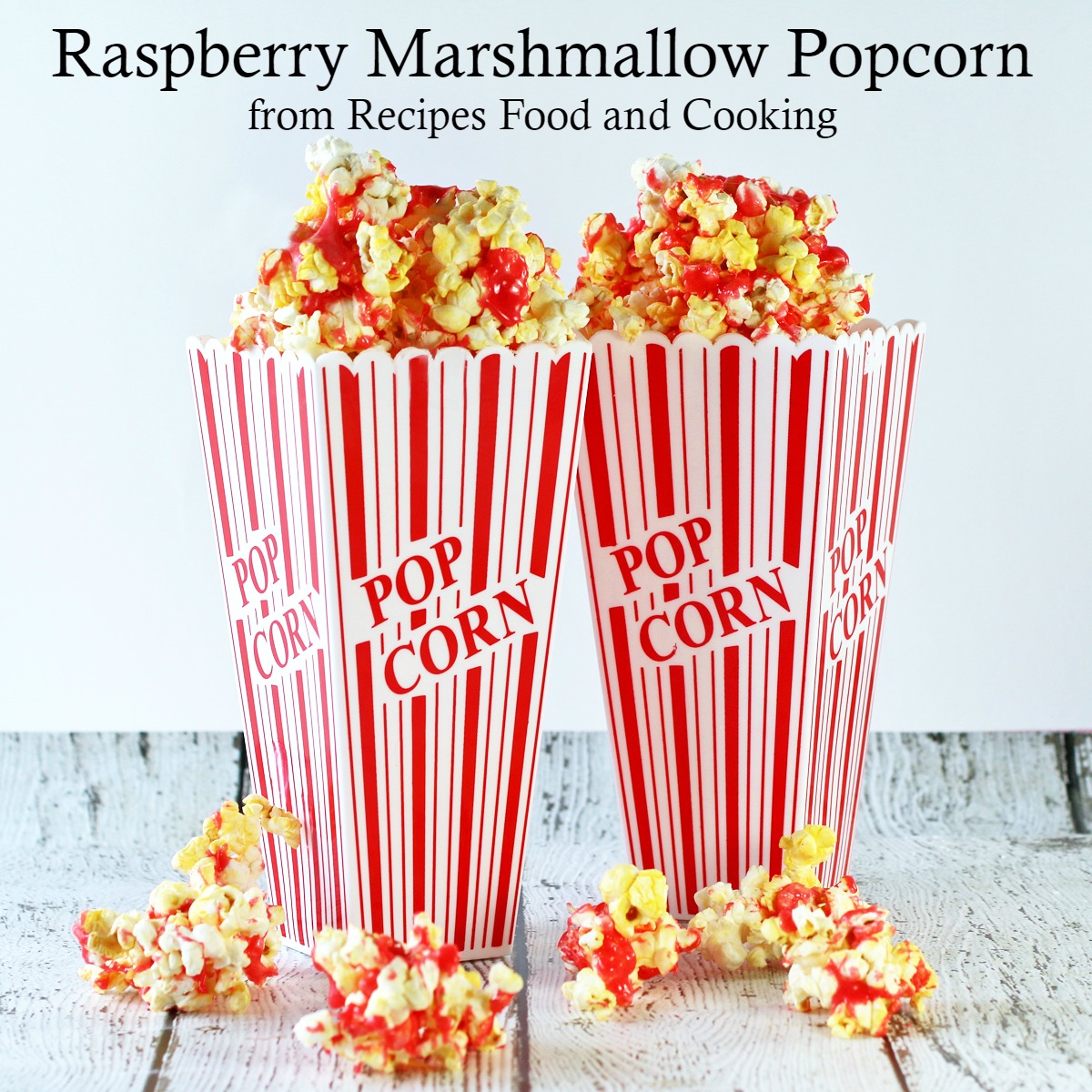 Some of these recipes will do best if the popcorn is spread out on a cookie sheet when you add the add ins. I would line the pan with parchment paper or spray it lightly with cooking spray.
10 Easy Popcorn Recipes!
1. Candy Coated Popcorn – 1 bag popped ACT II Popcorn, 1 3/4 cup candy melts, sprinkles. Put the candy melts in a microwave safe bowl. Microwave for 1 minute. Take out and stir until smooth, it may need another 15 seconds. Pour over the popcorn in a bowl. Add the sprinkles while stirring the popcorn to coat it. Spread out on a cookie sheet.
2. Marshmallow Popcorn – 1 bag popped ACT II Popcorn, 3 cups mini marshmallows, 3 tablespoons butter and 2 tablespoons  dry gelatin. In a pan melt the butter and marshmallows together over low heat. Stir in the dry gelatin. Add the bag of popcorn and stir until covered. Spread out on a cookie sheet.
3. OREO Popcorn – 1 bag popped ACT II Popcorn, 6 – 8 OREO Cookies. Put popped popcorn in a cup or bowl and sprinkle with crushed OREO cookies.
4. Everything Bagel Popcorn – 1 bag popped ACT II Popcorn, 2 cups crushed bagel chips, 2 tablespoons melted butter, 1 tablespoon sesame seeds, 1 tablespoon poppy seeds, 1 teaspoon onion powder and 1 teaspoon sea salt.
5. Bacon Jalapeno Popcorn – 1 bag popped ACT II Popcorn, 5 slices bacon cooked crisp, 1 teaspoon bacon grease, 3 tablespoons jalapeno peppers, 1/2 cup chives and 1/2 teaspoon sea salt. Cook the bacon, drain on a paper towel. Remove all of the bacon grease but 1 teaspoon. Saute jalapeno peppers for about 3 minutes. Break up the bacon and add to the popcorn. Pour the jalapenos over the popcorn and mix in. Add the chives and sea salt.
6. Cajun Popcorn– 1 bag popped ACT II Popcorn, 2 tablespoons butter, 1 teaspoon cajun seasoning, 1 teaspoon lemon zest, 1/4 cup green onions. Melt the butter with the cajun seasoning and lemon zest. Pour over popcorn. Toss with the green onions.
7. Salt and Vinegar Popcorn – 1 bag popped ACT II Popcorn, 1/8th cup malt vinegar, 1 teaspoon sea salt. Put mixture in a small spray bottle. Shake until salt is dissolved. Spread out on a cookie sheet. Spray it on the popcorn lightly.
8. Raspberry Popcorn – 1 bag popped ACT II Popcorn, 1 bag freeze dried raspberries, 2 tablespoons confectionery sugar. Crush 1/2 cup of the raspberries in the food processor with the confectionery sugar. Sprinkle it over the popcorn. Add 1 cup of the freeze dried raspberries to the popcorn.
9. Fiesta Popcorn – 1 bag popped ACT II Popcorn, 1 tablespoons Mexican seasoning, 1 tablespoon melted butter. Melt the butter and drizzle over the popcorn. Add the Mexican seasoning and toss popcorn to coat.
10. Churro Popcorn – 1 bag popped ACT II Popcorn, 1 3/4 cups cinnamon chips, 2 tablespoons confectionery sugar. Melt the cinnamon chips. Pour over the popcorn in a bowl. When it is coated sprinkle with the confectionery sugar.
So which popcorn recipe are you going to try when you have movie night?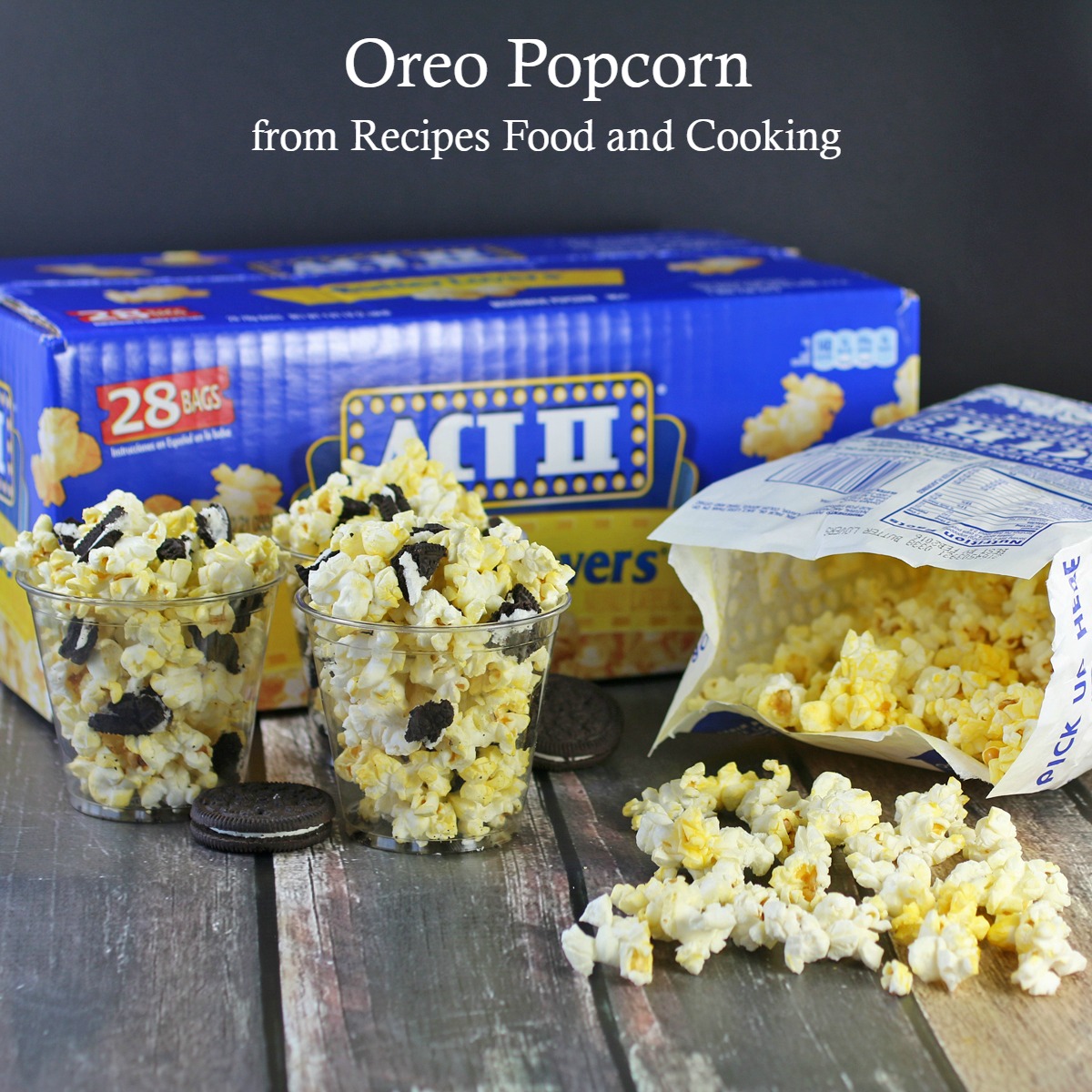 Pin It!