Candy Corn Butter Cookies are swirled cookies in candy corn colors. These are a delicious buttery cookie.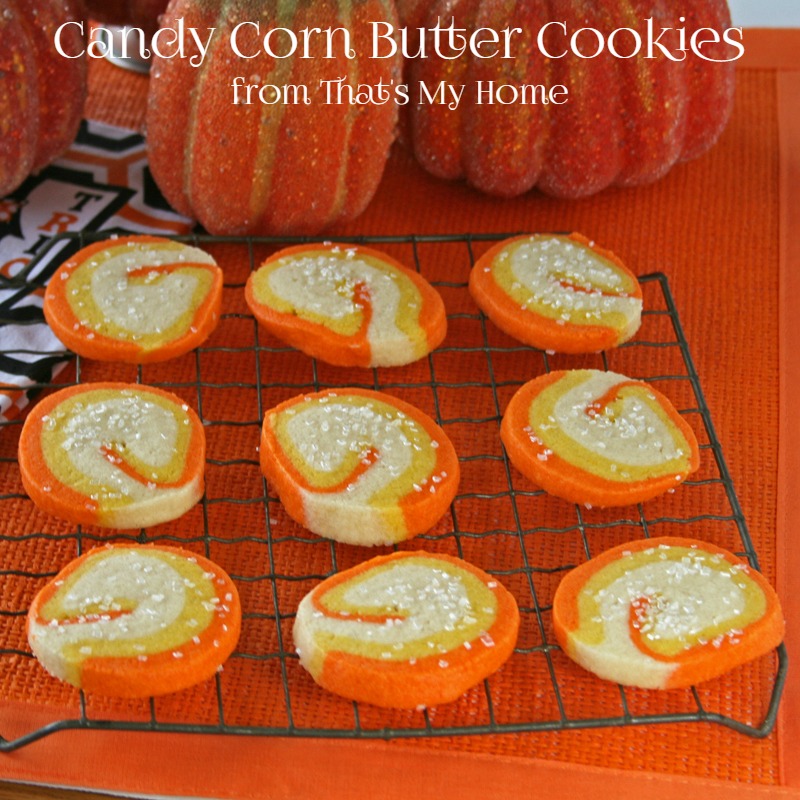 Candy Corn Butter Cookies
I made these colorful Candy Corn Butter cookies the other day to go with my newest giveaway for a Kitchen Aid Mixer. I'm in another giveaway called Bake In Color and it immediately made me think of this colorful cookie! Go on over to That's My Home to enter. I made a version of these last Christmas and they were a hit so I decided to repeat it again for Halloween using Halloween colors.
Candy Corn Butter Cookies
Prep time:
Cook time:
Total time:
Swirled cookies in candy corn colors, these are a delicious buttery cookie.
Ingredients
2 sticks butter, softened
1 cup sugar
1 large egg
1 teaspoon vanilla
1 teaspoon baking powder
1/4 teaspoon salt
2 1/2 cups flour
yellow and orange food coloring
sanding sugar - optional
Instructions
In a mixer bowl combine the sugar and butter. Beat until light and fluffy.
Add the egg and vanilla, mix until thoroughly combined.
Add the flour, baking powder and salt. Mix util thoroughly combined.
Divide the dough into 3 pieces. Color one of the pieces orange and the other piece yellow. Wrap up each piece and put in the refrigerator for 15 minutes.
Roll out each piece using a little additional flour into a 8 x 12 piece of dough. Stack the pieces on top of each other. Using a pizza cutter or knife trim up the edges the best you can. Roll the dough into a tight cylinder, starting on the longest side. Wrap in saran wrap and refrigerate 1 hour.
Preheat oven to 325 degrees. Cut the dough into 24 circles. Place the dough on a sprayed baking sheet. Sprinkle with the sanding sugar or sprinkles if desired. Bake for 8 - 10 minutes. Cool on a wire rack.
How about our Halloween Gingerbread House?