Chocolate Chip Shortbread Cookies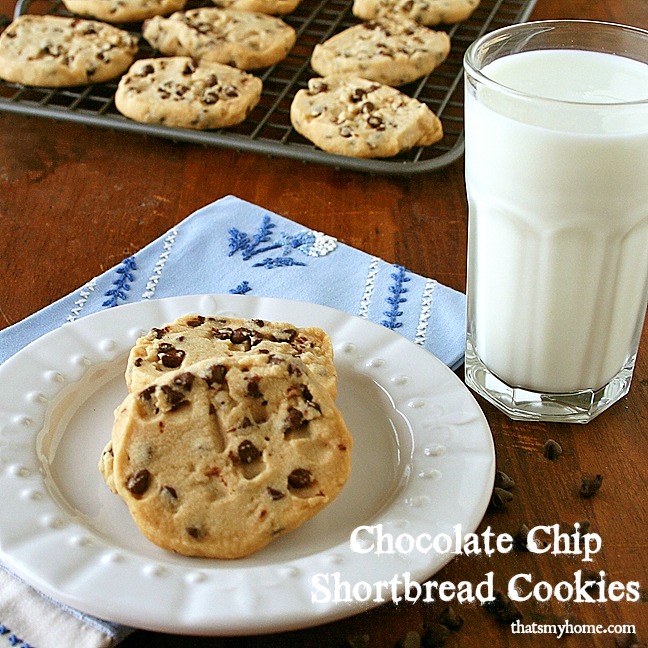 Chocolate Chip Shortbread Cookies
One can never have enough Chocolate Chip Cookie recipes in their recipe box. This is a buttery cookie full of mini chocolate chip cookies. There is even a little bit of peanut butter in the cookies. This is a small recipe, you are only going to get 1 1/2 dozen cookies so you might want to double it. You could also freeze some of the dough if you double it for cookies later anytime you need them.
Chocolate chips are teardrop shaped chocolate. They come in many flavors today and it seems that there is always a new one to try. So you can easily change the flavor of these cookies by adding a different flavor of chocolate chips. Chocolate chips can also be melted and  melt best at temperatures between 104 and 113 °F.  Because most chocolate chips are designed to retain their shape when baking, they contain less cocoa butter than baking chocolate.
Follow me on Facebook, Google+ , Instagram or Pinterest to see when I post or share something new!
Chocolate Chip Shortbread Cookies
Prep time:
Cook time:
Total time:
Tender, buttery Chocolate Chip Shortbread Cookies melt in your mouth from the first bite.
Ingredients
1/2 cup butter, at room temperature
1/3 cup creamy peanut butter
1/2 teaspoon vanilla
1 1/4 cup flour
1/3 cup confectioner's sugar
1/2 teaspoon salt
3/4 cup mini chocolate chips
Instructions
Combine butter, peanut butter, vanilla and confectioner's sugar in a mixer bowl fitter with the paddle attachment. Mix for about 3 minutes or until light and fluffy.
Add flour and salt. Mix until combined. Stir in chocolate chips.
Place dough on wax paper and shape into a log about 12 inches long. Twist ends of waxed paper to close. Refrigerate dough for at least 2 hours.
Preheat oven to 325 degrees.
Cut into slices about 1/3 inch thick with a knife. Place on greased baking sheets. Bake for 10 - 12 minutes. Bottoms should not be brown. Let cookies sit on sheets for about 10 minutes before removing to a rack to cool. They can break apart if you try to move them right away.