Pork tenderloin and fresh pumpkin cubes cooked in a savory coconut curry sauce. Delicious served over rice, potatoes or a pumpkin pork curry stew.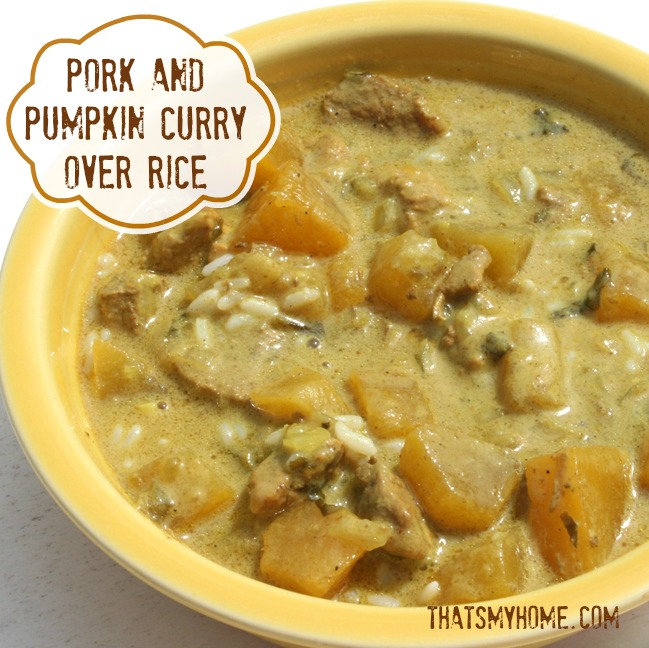 Denise's Pumpkin Pork Curry
My best friend since second grade made this last year while we were at the beach. I have to admit I was not looking forward to Pumpkin Pork Curry. I am not a big Thai lover and I really don't like coconut. Try a search for coconut here and I don't think there's a recipe here with it unless I made it for someone else.
Well I want to tell you, I waited for pumpkin season all year just to make this delicious pork and pumpkin curry. I fell in love with it. This may of just been one of my biggest food surprises last year. I have always loved curry so I am not sure why I was so apprehensive and I love trying new things but couldn't imagine pumpkin in a savory dish. I'm not sure why we don't eat it more often as a savory side because it is delicious. I still have a few pumpkins left so I may just have to experiment a little with one of them.
Denise also gave us a tip for storing ginger. I love keeping ginger on hand but often don't use all it before it gets all dried up and I have to dispose of it. She slices it and stores it in sherry.

Denise's Pumpkin Pork Curry
Prep time:
Cook time:
Total time:
Pork tenderloin and pumpkin cooked in a coconut curry sauce and served over rice.
Ingredients
1 medium whole pumpkin, peeled and cut into half inch chunks
2 unflavored pork tenderloins, cut into one inch cubes
1 large onion
4 large cloves garlic
4 slices fresh or preserved ginger*
2 cans coconut milk
1 bottle Thai yellow curry sauce
4 tablespoons good quality curry powder (Penzy's sweet yellow curry is wonderful)
5-6 sprigs fresh cilantro
12 fresh basil leaves
salt and pepper to taste
4 Tbs olive oil, divided.
Instructions
Finely mince garlic and ginger. Chop onion. Heat 2 TBS olive oil over medium heat. Add garlic and ginger and stir fry till aromatic and garlic is softening. Add onion, and cook until barely translucent. Transfer to large casserole pan. Add coconut milk, curry sauce, cilantro, basil, salt, pepper, and pumpkin. Bring to a boil, reduce heat, and simmer uncovered 1-2 hours or until pumpkin is barely tender.
Meanwhile, in a large frying pan (can be the same pan in which garlic was cooked), add remaining oil and cubed pork. Sprinkle with curry powder and stir fry until meat is cooked on outside. Refrigerate until pumpkin is barely tender. Then add to pumpkin mixture, and simmer until pork is cooked through. If desired, sprinkle garam masala powder over the top about 5 minutes before serving.
Serve over steamed rice, boiled potatoes, or eat as a stew.
To preserve fresh ginger root, peel fresh ginger and slice into pieces about 1/4 inch thick. Place in a clean glass jar with a screw top lid, and cover the ginger with dry sherry. Store in the refrigerator. Keeps almost indefinitely. The sherry can be used in oriental recipes and can be replaced with fresh sherry as needed.
Denise