Soft and chewy oatmeal cookies with a touch of brown sugar. These cookies are perfect lunch box cookies.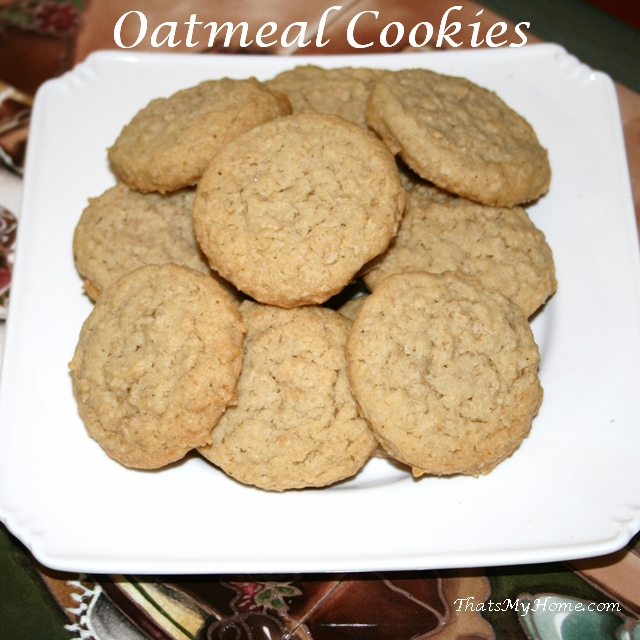 Oatmeal Cookies
This recipe make a soft and chewy oatmeal cookie. Be sure to use quick oats if you want this texture. These would be great put together with some frosting in the center also.
The best cookie sheet  is one made of heavy-gauge metal, so it will hold the heat evenly and won't warp  over time. It should not have high sides, which would hamper the even flow of  heat over the cookies. Non-stick surfaces work well for cookie sheets, but dark  surfaces cause the bottoms of cookies to brown too quickly. Double insulated  cookie sheets will also keep the bottoms of cookies from browning to quickly.
Measure, don't  guess….In baking, accuracy really counts. For measuring liquids, use  transparent or 1- or 2-cup marked measuring cups. Set the cup on a flat surface.  For measuring dry ingredients, graduated cups make it easy to obtain the exact  amount needed by leveling off with the sweep of a long-bladed spatula or knife,  rather than just judging by sight.
Oatmeal Cookies
Prep time:
Cook time:
Total time:
Soft and chewy oatmeal cookies with a touch of brown sugar. These cookies are perfect lunch box cookies
Ingredients
3/4 cup butter
1 cup sugar
1/3 cup brown sugar
1 large egg
2 teaspoons vanilla
1 3/4 cup flour
1/2 teaspoon salt
3/4 teaspoon baking powder
1/2 teaspoon baking soda
1 3/4 cup quick oatmeal
Instructions
Preheat oven to 350 degrees.
Cream together the butter, sugars and vanilla until light. Add the egg and mix it in. Add the flour, baking soda, baking powder and salt. Mix until incorporated. Add the oatmeal and mix until very well combined.
Using a small scoop, scoop the cookie dough unto a greased cookie sheet.
Bake for about 10 minutes. Edges will be beginning to brown. Remove from cookie sheet to a wire rack to cool.
thatsmyhome.com