Soft Molasses Cookies with a crispy outside.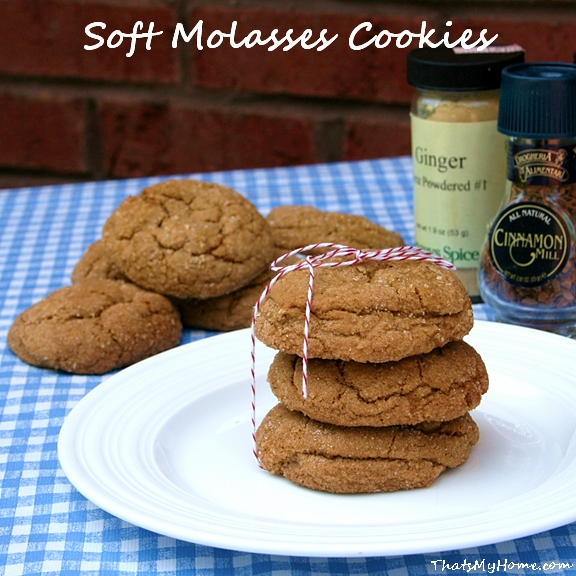 Soft Molasses Cookies
Molasses cookies of all kinds are one of my favorite cookies, plus the house smells heavenly while they bake. If you haven't used crystallized ginger before it is worth buying. I add crystallized ginger to almost anything with ginger, it brightens the flavor. It comes in big crystallized chunks of ginger, chop it up rather finely for these cookies before adding it to the batter. These are big, soft and puffy molasses cookies.
Follow me on Facebook, Google+ , Instagram or Pinterest to see when I post or share something new!
Soft Molasses Cookies
Prep time:
Cook time:
Total time:
Soft molasses cookies with a crispy outside.
Ingredients
1/2 cup butter, softened
1/2 cup margarine
1 1/2 cups granulated sugar
1/2 cup dark molasses
2 eggs, lightly beaten
4 cups flour
1/2 teaspoon salt
2 1/4 teaspoon baking soda
2 1/4 teaspoon ground ginger
3/4 teaspoon ground cloves
1 1/2 teaspoon ground cinnamon
1 tablespoon crystallized ginger
Rolling Sugar
1/3 cup granulated sugar
1/3 cup raw sugar
Instructions
In large mixing bowl, cream butter and margarine until well mixed. Add sugar and beat until light-colored and and fluffy. Mix in molasses and eggs until smooth; set aside.
In another large mixing bowl, whisk together flour, salt, baking soda, ginger, cloves, crystallized ginger and cinnamon. Gradually mix dry ingredients into creamed mixture until dough is blended and smooth.
Roll dough into 1 1/2" balls or use a large cookie scoop. Roll balls in sugar mixture. Bake at 350 degrees for about 15 minutes. Do not over bake or cookies will lose their chewy interior! Remove from sheets to wire rack to cool completely. Store in tightly covered container.
Notes
Adapted from Kay Galbraith - In the 1997 Wisconsin Electric Cookie Book
Try our 
Molasses Pumpkin Cookies
?