Homemade soft pretzel bites!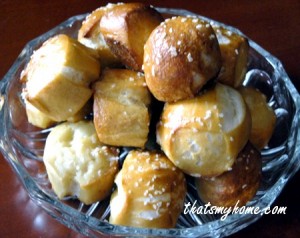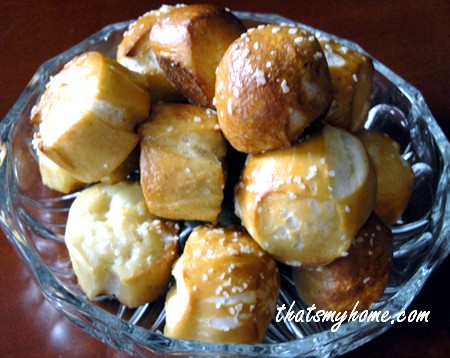 I made these yesterday afternoon and boy are they yummy! They are just like the ones at the mall. It sure is nice to be cooking and baking again and love doing it. For quite a while I hated the thought of being in the kitchen, and I am the woman who reads cookbooks likes novels. I like nothing better than finding a recipe that works like I expect it to. Have a great weekend!

Homemade Soft Pretzel Bites
Prep time:
Cook time:
Total time:
Ingredients
1 1/2 cups warm water
2 tablespoons light brown sugar
1 package active dry yeast
3 ounces butter, melted
2 teaspoons kosher salt
4 1/2 to 5 cups all-purpose flour
Vegetable oil
3 quarts water
3/4 cup baking soda
1 whole egg, beaten with 1 tablespoon cold water
Coarse sea salt
Instructions
Add the water, yeast, sugar and butter into your mixer bowl. Mix to combine. Let stand for 5 minutes.
Add the flour and salt. Mix together. (using your dough hook if you have one) Knead until the dough is soft and smooth, about 4 minutes. If dough looks too wet, add flour a tablespoon at a time. Place dough in a oiled bowl and cover with a towel. Place in a warm spot and let the dough rise until it doubles, about a hour.
Preheat oven to 425°F. Add the water to a dutch oven pan with the baking soda. Bring to a boil. Spray a cookie sheet with oil. Mix egg with water in a small bowl.
Divide dough in 4 parts. Take a piece of the dough and divide it in
Roll into a long rope about 12 inches long. Let sit and do the other piece. Cut the pieces into one inch pieces. Add to boiling water about half at a time. When they start to float turn them over with a slotted spoon and cook another 30 seconds. Remove from water and place on cookie sheet. Make sure they are not touching.
Brush each pretzel bite with egg wash. Sprinkle liberally with salt. Bake for 18 – 20 minutes until golden brown.
Let rest for 5 minutes before eating. Serve with pizza or cheese sauce.
Note: This dough will keep in the refrigerator up to 2 days if you don't need to make them all. Give them some additional time to raise after you cut them before putting them in the boiling water.