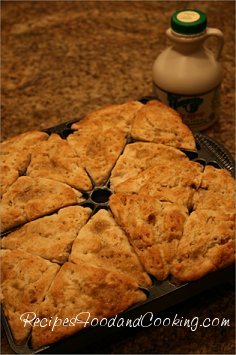 Maple Pecan Scones
Last year we took a trip to New Hampshire Sugarhouses at the end of the maple season. We got there in time to watch the last of the maple sap being processed. Did you know that it takes almost 40 gallons of sap to make just one gallon of the beautiful amber syrup? Sugar season lasts about 4 – 6 weeks, depending on the weather.
Our first stop that day was at Stuart and John's Pancake House in Westmorland, NH which is only open on the weekends for their special pancake breakfast. The pancakes were some of the best I have ever eaten and served of course with their own maple syrup. After breakfast you can tour the boiling room where if you are lucky, they will be boiling syrup that day.
There are 4 different grades of maple syrup and I brought some of each home. I used the Grade B in the scones below and left out the maple flavoring.
Grade A Light Amber, is very light and has a mild delicate maple flavor.
Grade A Medium Amber, is a bit darker and has a more pronounced maple flavor. It is the most popular grade of table syrup.
Grade A Dark Amber, is darker yet with a stronger maple flavor.
Grade B, sometimes called Cooking Syrup, and is very dark with a very strong maple flavor, as well as some caramel flavor.
Sweet Maple Syrup
Prep time:
Cook time:
Total time:
Ingredients
3 1/2 cups all-purpose flour
2 tablespoons brown sugar
1 cup pecans - chopped
4 teaspoons baking powder
1 teaspoon salt
2/3 cup vegetable shortening
1 cup milk
1/2 cup real maple syrup
1/2 teaspoon maple flavoring
1 teaspoon vanilla
Instructions
Preheat oven to 425 degrees; grease a large baking sheet. (I used a mini scone pan)
In a large bowl, combine flour, brown sugar, pecans, baking powder and salt. With a pastry blender, or two knives, cut in the shortening until mixture resembles coarse crumbs.
Add milk, 1/3 cup of the syrup and the maple flavoring to dry ingredients and mix lightly with a fork until mixture clings together and forms a soft dough. Turn dough out onto a lightly floured surface and knead gently 5 or 6 times.
Divide dough in half. With a lightly floured rolling pin, roll one half of the dough into a 7-inch round; cut into 4 wedges. Repeat with remaining dough. Place scones one inch apart on prepared pan. Pierce tops with the tines of a fork. Brush tops with remaining maple syrup.
Bake for 15 to 18 minutes, or until golden brown. Serve warm.