Short Rib Stew full of carrots, potatoes, onions and mushrooms.. The short ribs fall apart and melt in your mouth.

Short Rib Stew
Here is another Beat the Heat recipe, again cooked on the stove instead of the oven. A good pan with a tight fitting lid is a must for this recipe or you will have to continue to add water as it cooks. I use a Le Creuset Dutch Oven when I want to cook a recipe like this one on the stove.
The short ribs fall apart as it cooks and is amazing! I get the little round onions and carrots from Trader Joe's, regular or baby carrots will be good also. You can add more vegetables if desired, I used what I had on hand. You could also make this in the crock pot if desired.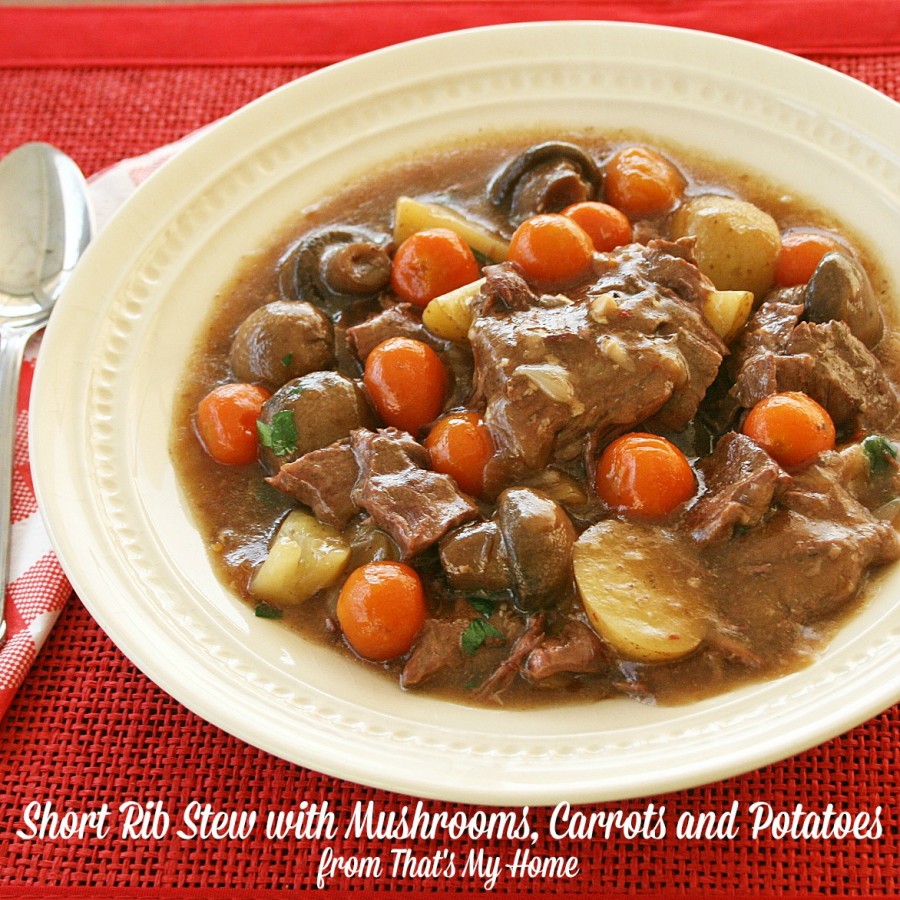 When buying short ribs, there are 3 different kinds. Boneless like I used here and cut from the chuck. English cut include the bone and Flanken which is cut across several bones and usually those are the ones you see cut into 2 inch pieces.
Follow me on Facebook, Google+ , Instagram or Pinterest to see when I post or share something new!
Beat the Heat Short Rib Stew
Prep time:
Cook time:
Total time:
Tender pieces of beef short ribs, potatoes, carrots, onions and mushrooms in a flavorful beef gravy.
Ingredients
1 1/2 lbs. short ribs
1 tablespoon oil
salt and pepper
3 - 4 garlic cloves
2 cups beef broth
2 cups chopped onions or baby onions as I used here
3 cups chopped carrots
10 - 12 baby potatoes cut in half
12 oz. whole mushrooms
1/2 teaspoon fresh chopped tarragon or 1/4 teaspoon dried
2 tablespoons fresh chopped parsley (optional)
2 heaping tablespoons cornstarch
1/4 water
Instructions
Brown the short ribs in the oil in your dutch oven. When browned add onions, carrots, garlic, salt and pepper. Add the broth and cover the pan. Cook over medium low heat for 45 minutes.
Add the potatoes, mushrooms and herbs. Cover and cook for another 30 minutes or until the vegetables are tender.
Mix together the cornstarch and water. Stir into the stew and cook until juices are thickened.