The recipe for this Kringle comes from Racine, Wisconsin. We always had Kringle for Christmas morning breakfast.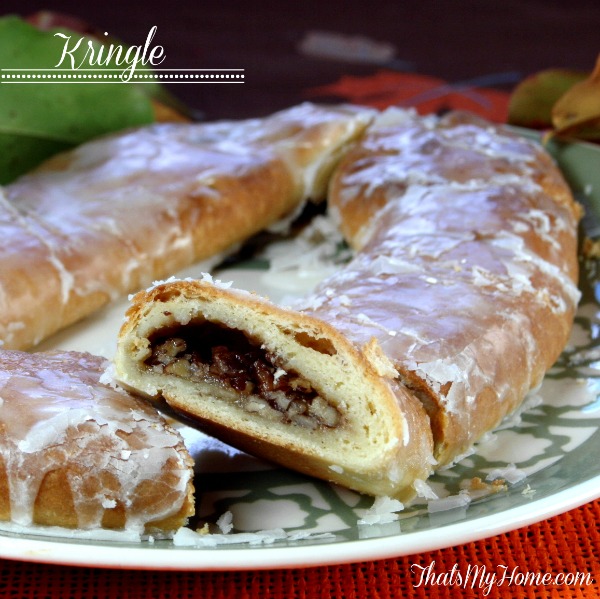 Kringle
We have Kringle every Christmas morning for as long as I can remember. My mom's aunt lived in Racine, Wisconsin and used to send them to us. What a treat it was. Back in the 60's when they sent it out they also included a brochure that told all about the history of kringle and the recipe! The traditional way it came is in the oval shape you see here. Some years ago we changed it and started baking it in sticks instead about 12 inches long. It was easier to bake that way and also looked more attractive when cut. Kringle freezes well and we always reheated it wrapped in foil in the oven.
Our traditional way to make it is with a pecan filling, but it also came with an apple filling or almond filling way back when. Now I see them with cherries, cream cheese you name it, about anything you can think of to use as a filling works. The crust is buttery, and supposed to be a little crisp.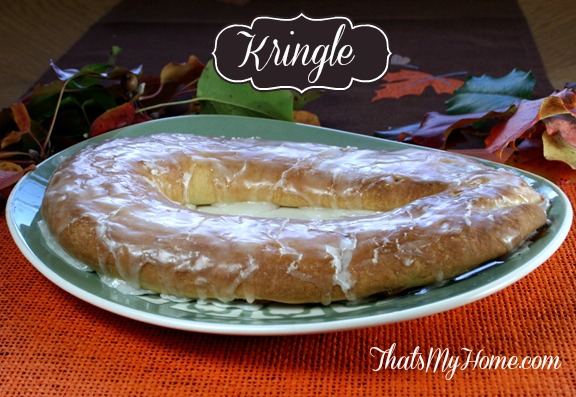 Kringle – It's What For Breakfast Christmas Morning
Prep time:
Cook time:
Total time:
The recipe for this Kringle comes from Racine, Wisconsin. We always had Kringle for Christmas morning breakfast.
Ingredients
1/2 cup butter
2 cups flour
1 tablespoon sugar
1/2 teaspoon salt
1 pkg. active dry yeast
1/4 cup warm water (105 to 115°F.)
1 egg
1/2 cup lukewarm milk (scalded, then cooled)
1 cup powdered sugar
1 tablespoon water, or more as needed
1/2 teaspoon vanilla
For pecan filling
1 1/2 cup chopped pecans
1 cup packed brown sugar
1/2 cup butter
Instructions
Cut butter into flour, sugar and salt in large bowl until mixture resembles fine crumbs. Dissolve yeast in warm water. Stir yeast mixture, egg and milk into flour mixture and beat until smooth (dough will be very soft). Cover and refrigerate at least 2 but no longer than 24 hours.
Divide dough into halves. Return 1 half to refrigerator. Roll other half into 15-by 6-inch rectangle on floured, cloth-covered board with floured, stockinet-covered rolling pin.
Spread half of filling lengthwise down center of rectangle in 3-inch strip. Fold sides of dough over filling with 1½-inch overlap. Pinch edges to seal. Carefully arrange kringle on greased baking sheet in oval or horseshoe shape. Pinch ends together for the former. Repeat with remaining dough. Cover and let rise in warm place 30 minutes.
Bake at 375°F. until golden brown, 20 to 25 minutes.
For pecan filling, mix together chopped pecans, brown sugar and butter, softened until well combined.
To make glaze, mix together powdered sugar, water and maple flavoring or vanilla until smooth. Stir in additional water if necessary, 1/2 teaspoon at a time. Spread dough with glaze. Sprinkle with nuts.