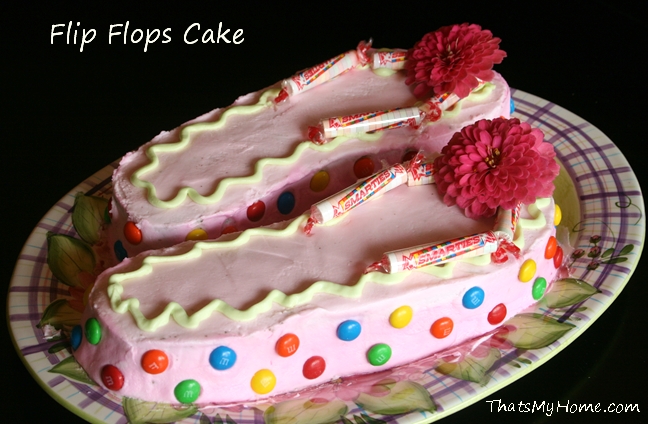 Flip Flops Cake
I had company coming last week and decided to make a cake that I thought the girls would really appreciate. Three of the four girls all have shoe fetishes so this cake was perfect for them. It was easy to do and they loved it. The first thing you do is bake a cake in a 9 x 13 pan. I used a cake mix. Then make your favorite decorators frosting after the cake cools.
I had a brand new pair of sandals I hadn't worn and they were the pattern for the cake. Place the sandals on a piece of wax paper and trace around each of the shoes. Then place your pattern on the cake and cut it out. Place the cakes on your serving dish and frost the cakes. If you used a chocolate cake be sure to frost the cakes with a light layer of frosting and let it set for at least 30 minutes before adding the top coat. I had lots of crumbs. I tinted my frosting bright pink except for the little bit I did bright green.
I used M&M's around the sides of the cake for color, smarties candy for the sandal straps and real flowers for the center of the strap. I used a bright green to make the squiggly lines around the cake. It took about 45 minutes to frost and decorate the cake.
Enjoy!