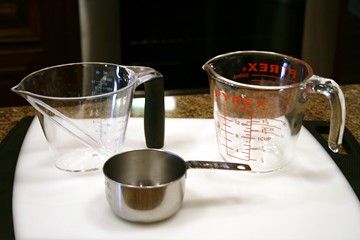 It is very important to use the right device when measuring in the kitchen, especially in baking or in portion control.
Measurements may be either weight or volume. Examples of weight would be ounces or pounds. Examples of volume are teaspoons, cups or pints. It is important to have both. Thermometers are also a measuring device.
Ingredients being measured by volume include measuring cups and measuring spoons. There are 2 types of measuring cups, one for liquids which are usually glass, which measure from 1 cup to 1 gallon and the measuring cups we are all familiar with.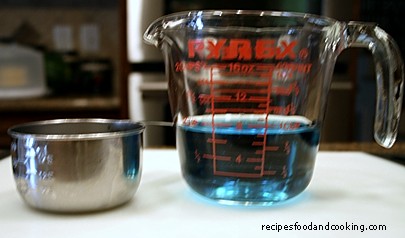 This image shows the importance of using the correct measuring cup. I used the metal cup to measure 1 cup of water. When I poured it into the liquid measuring cup it was a 1 tablespoon and 1 teaspoon short of a cup. When measuring in the glass measuring cup, you need to look at it at eye level to see it correctly. The measuring cup in the top picture is the exception to that as it has measurements in it so that you can see how much you've got by looking into the measuring cup.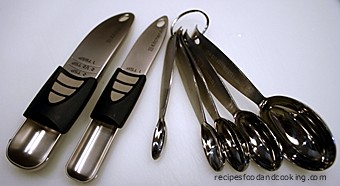 Then we have our measuring spoons which usually include 1/4 teaspoon, 1/2 teaspoon, 1 teaspoon, and 1 tablespoon. THe two measuring spoons on the left in the photo are adjustable measuring spoons.
Ladles can also be helpful for measuring in the kitchen and are usually in ounces. You will find the amount of the ounces usually on the handle.
Portion scoops are like ice cream scoopers. The higher the number on the scoop, the smaller the capacity. I love using mine for cookies and muffins especially.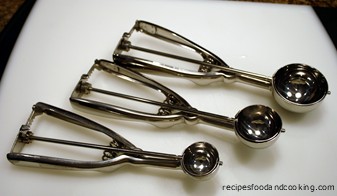 Thermometers measure the heat or cold. These can include the instant read, digital, candy thermometers, fat thermometers, refrigerator and oven thermometers. Instant read thermometers should never be left in foods that are cooking. Candy and fat thermometers work by raising the mercury contained in a glass container. Do not subject them to quick temperature changes as the glass can break. The instant digital thermometers are very easy to use now and provide quick results when checking foods in the oven, grill or on the stove.