When you need finely grated zest do it directly over the bowl to avoid losing essential oils. Use a rasp style grater or microplane and grate just the peel, not the white pith. You can also use a box grater to zest. Do it like you would if you were grating cheese.
There is also a tool you can use called a zester. This will make long thin zests that can look like thin noodles which are great for garnishes. You can also chop these strips if you want larger pieces than the grated.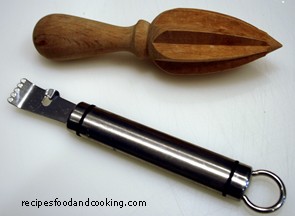 The metal tool in the picture is a zester. The wooden tool is a juicer.