The perfect appetizer, chicken breast pieces with homemade boursin wrapped in a flaky filo wrapping.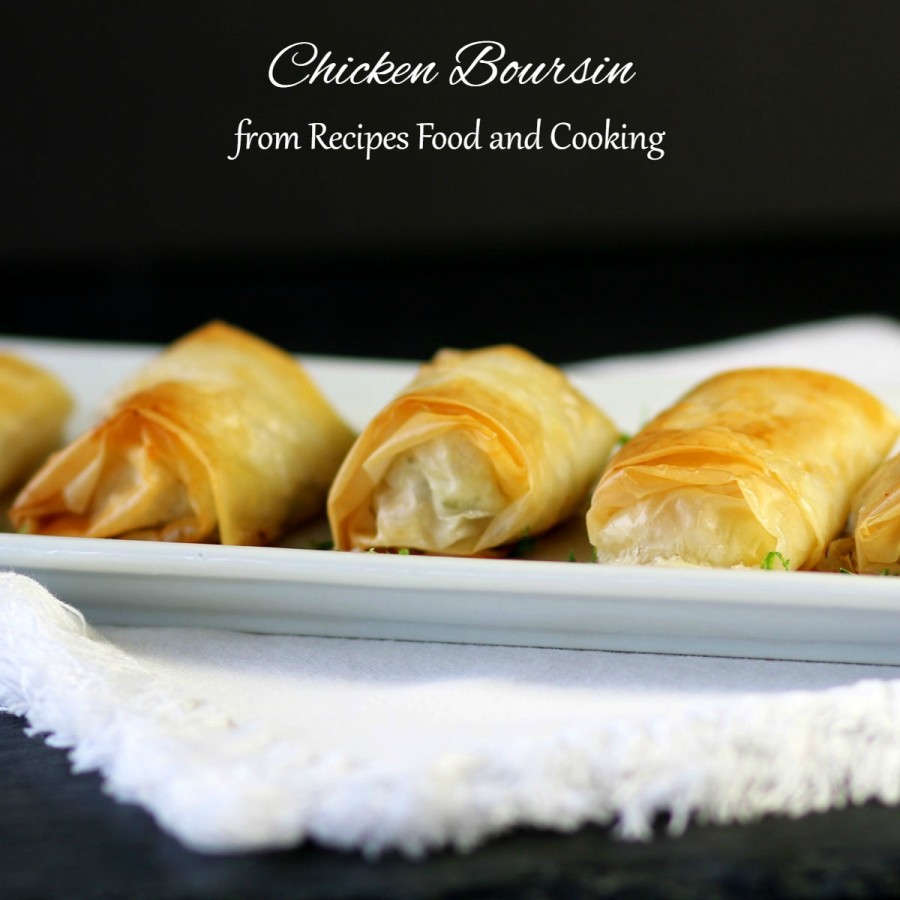 Chicken Boursin
It's #SundaySupper time again and our challenge this week is to share recipes that will make any red carpet viewing party a tasty one! I decided right away to make my chicken boursin.
I've been making this for longer than I care to remember, back from my hotel kitchen days. It was on the menu there using full size chicken breasts as an entree. I made it for my mom once and she fell in love with it and after that I made it even more often. One year at Christmas I decided to make it into an appetizer and this is the result.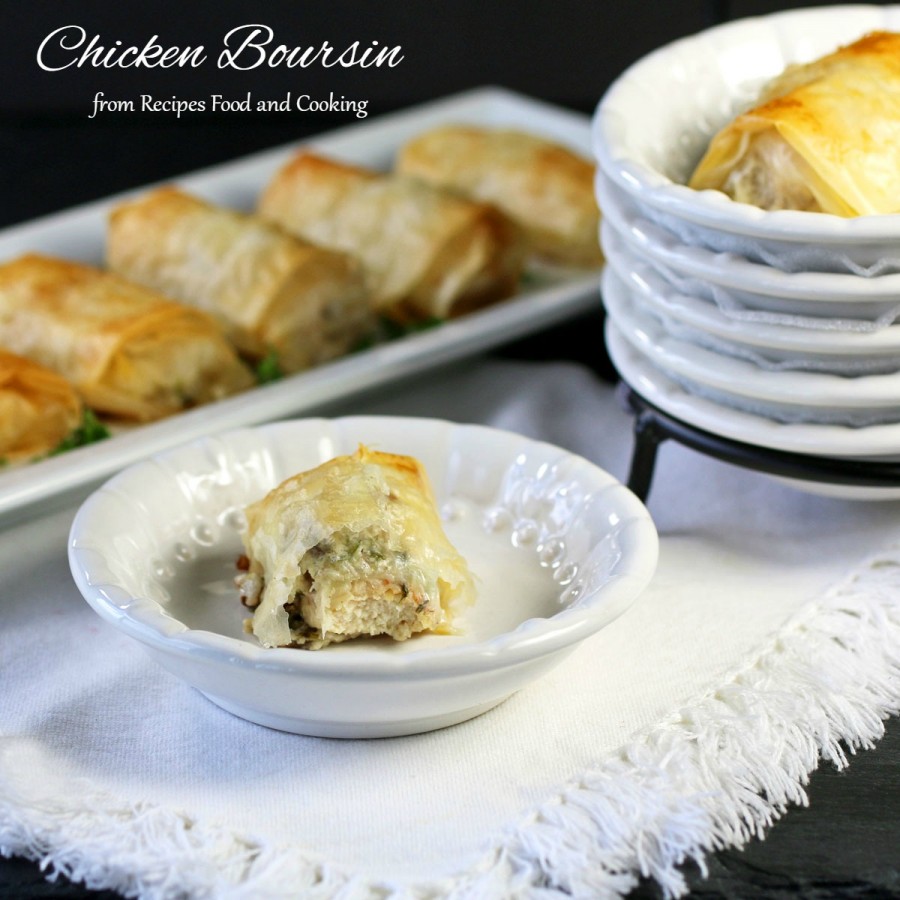 I make my own boursin cheese for it using cream cheese, butter, garlic, parsley and toasted pecans. If you have any left it is great added to mashed potatoes.
When working with filo dough keep it covered with a  damp towel, not real wet. If you are used to working with filo you might not have to, but it does try out quickly. I like to buy my filo dough at a Greek market because usually even when frozen it hasn't sat in the freezer case as long. I thaw my filo in the refrigerator and refreeze whatever I don't use immediately. When filo dough isn't fresh it is a pain to work with and gives filo a bad name. It's not fussy when not dried out.
I cut the filo into 2 long pieces. Then you are going to one at a time brush the filo with butter, add chicken, the boursin and roll it up. Brush it with additional butter lightly. Put the appetizers in the refrigerator uncovered until ready to bake. If you cover the filo dough it will get soggy! Brush a coating of butter on top of each roll.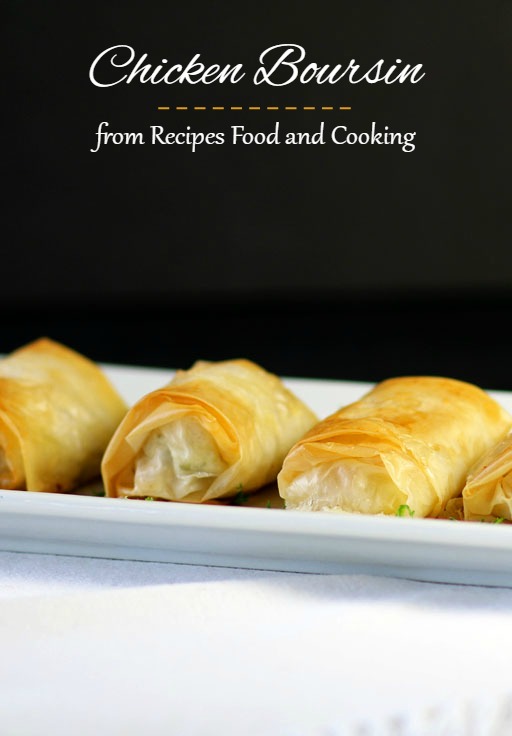 Chicken Boursin
Prep time:
Cook time:
Total time:
The perfect appetizer, chicken breast pieces with homemade boursin wrapped in a flaky filo wrapping.
Ingredients
2 chicken breasts
1 tablespoon olive oil
1/2 cup toasted pecans - chopped
8 oz. cream cheese
4 oz. butter for the boursin
3 - 4 garlic cloves - minced
4 tablespoons fresh parsley
salt and pepper
8 oz. melted butter - for filo dough
Instructions
Brown the pecans at 350 degrees for 5 minutes. Check before that they burn easily. Cool.
Cut the chicken breast into 2 bite sizes. I got about 19 pieces out of each chicken breast. (It will depend on the size of your chicken breast)
Heat olive oil in a frying pan. Brown the chicken pieces quickly, but do not cook all the way through. It will finish cooking in the oven. Put the browned chicken pieces on a plate and refrigerate until ready to roll up.
Chop the parsley. Put it in a strong paper towel and run cold water over it. Squeeze the paper towel, if the water is still green rinse it again. Open and fluff the parsley.
Add the cream cheese and butter to a food processor. Mix together until combined. Add the garlic. When mixed in add the pecans and parsley. Pulse several times to combine. Don't chop up the pecans and parsley too much. Put in a bowl.
Get out the filo dough. Cut in half the long way. Cover with a very damp paper towel and a clean kitchen towel.
Take 1 piece of filo dough and lightly brush with the melted butter. Fold up the end towards you as shown in the picture above about 2 inches. Place a piece of the chicken on top and then less than a teaspoon of the boursin mixture. If you add too much it will leak out during baking. Next you take the filo and turn the chicken with the boursin over so that it is now covered with the filo. Fold in both sides the best you can. Brush those edges with a little butter. Then roll the filo up to make a cylinder like shown above. You want the boursin to be on top so if there is a little bit leftover at the end, tuck it underneath. Place the rolls on a greased cookie sheet.
Refrigerate uncovered until ready to bake.
Bake at 400 degrees for 15 - 18 minutes or until lightly browned.
Nominees for Best Supporting Appetizers:
Nominees for Best Course in a Leading Role:
Nominees for Best Supporting Sips:
Nominees for Best Delectable Desserts:
Nominees for Best Dressed Table:
Join the #SundaySupper conversation on twitter on Sunday! We tweet throughout the day and share recipes from all over the world. Our weekly chat starts at 7:00 pm ET. Follow the #SundaySupper hashtag and remember to include it in your tweets to join in the chat. To get more great Sunday Supper Recipes, visit our website or check out our Pinterest board.
Would you like to join the Sunday Supper Movement? It's easy. You can sign up by clicking here: Sunday Supper Movement.
Pin It!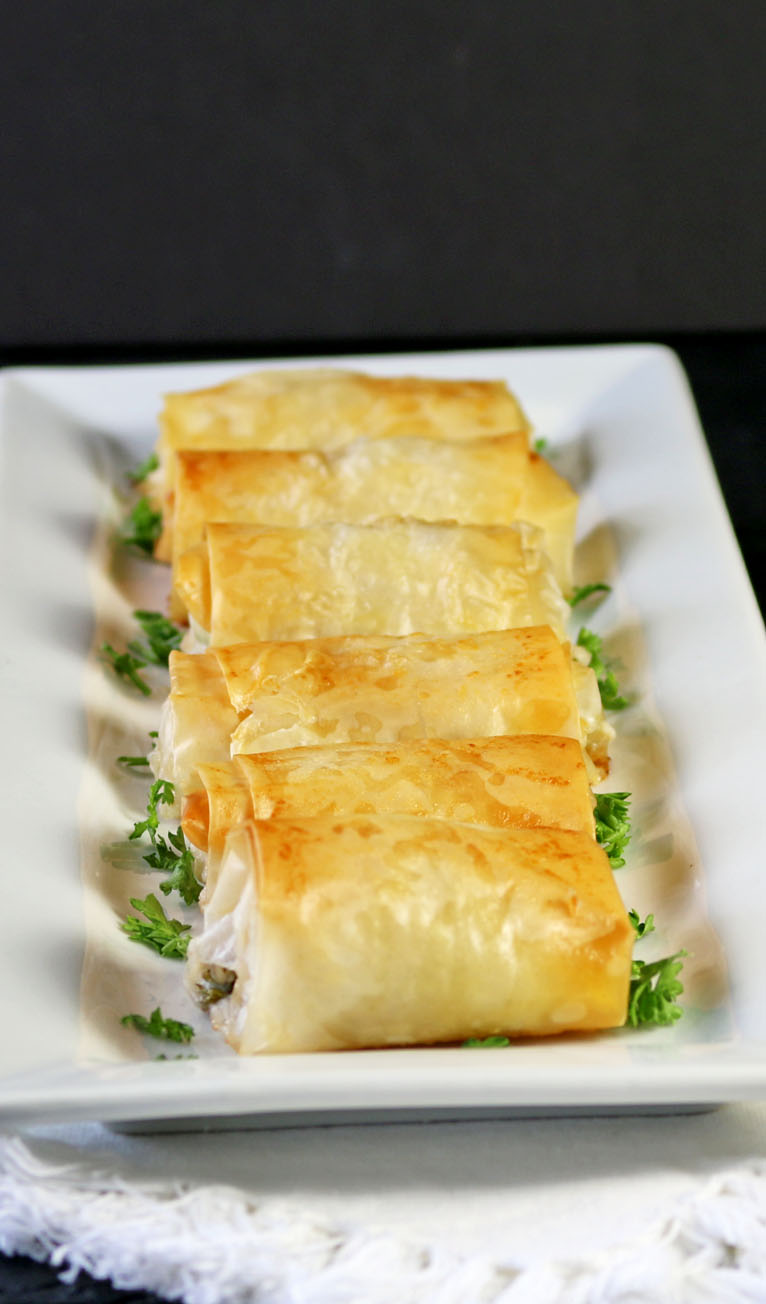 Enjoy!